For any purchase involving a digital copy or subscription please follow the steps below:
TO GET YOUR DIGITAL EDITION, FOLLOW THE FOLLOWING STEPS
STEP 1: DOWNLOAD THE KAYAK SESSION APP TO BEGIN WITH!
APPLE/ IOS: App Kayak Session Magazine or ANDROID GOOGLE PLAY : App Kayak Session Magazine
or by going to the App Stores and searching for Kayak Session Magazine.
STEP 2: Access your content
1. Open the app
2. Go to Profile
3. Go to Sign in
4. Click on Sign in if you already have an account
5. Don't have and account yet ? Click on Sign up
6. Enter you email (the same you used when you made your purchase)

and password and Click on Sign up (if your password does't work, click on « lost password » )
7. Go to your Library and start to read
Follow your order and download your invoice on our shop, go to the Order history and details section of your customer account.
If you have a guest account, you can follow your order via the Guest Tracking section on our shop.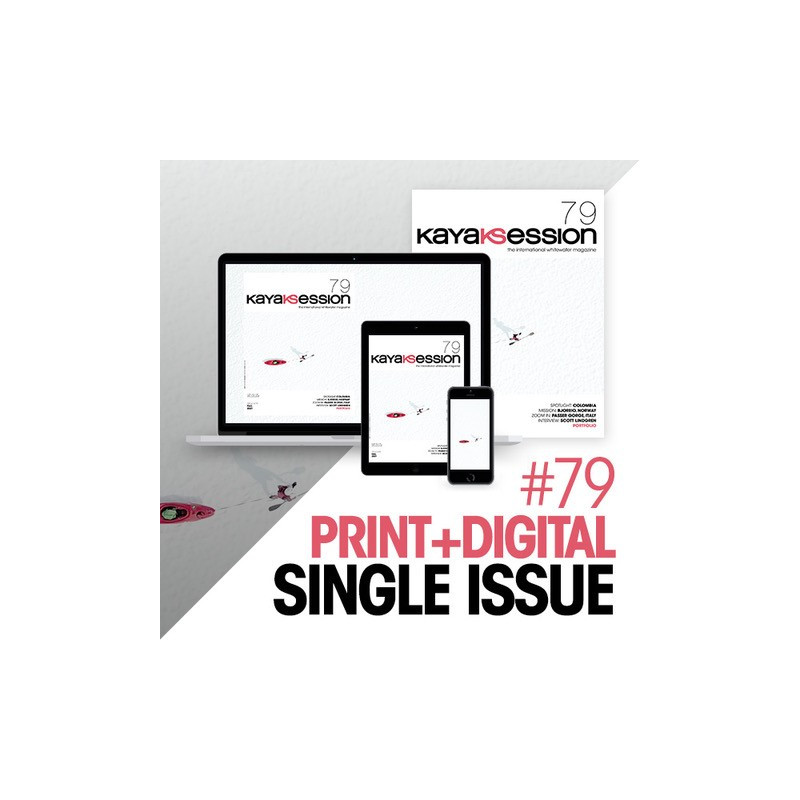  
Kayak Session Issue 79 - Print + Digital
Print + Digital edition of Kayak Session Issue 78
MISSION: PATAGONIA ROADTRIP – KAYAKING ALONG THE CARRETERA AUSTRAL
DESTINATION: FAMILY KAYAKING IN THE DURANCE VALLEY
FEATURE: 200% GREEN RIVER - HIGH TIMES ON A SOUTHEAST STAPLE
INTERVIEW: ANNA WAGNER
Table of contents KS #79 Fall Issue
SPOTLIGHT: COLOMBIA—FROM JUNGLE TO DESERT - THE BIGGEST RISK IS THAT YOU'LL STAY
David Sodomka and Mael Nguyen share the rivers and the vibrant lifestyle that made them fall in love with Colombia. From the jungles of Antioquia to the desert of San Gil, the exotic cocktail of culture, country, people, and incredible rivers will leave you wanting more.
ZOOM IN: PASSER GORGE - SOUTH TYROL'S HIDDEN GEM
Tucked away in a pristine canyon near Moos, Italy, lies a little slice of paradise. The class V canyons of the Passer Gorge are steep and committing and not without risk. Entering their depths grants you a rare taste of expedition-style kayaking without leaving the tourist-friendly mountains of Central Europe.
MISSION : BJOREIO - THE NORWEGIAN PARADOX
It took David Sodomka six years to finish the first descent of Norway's Bjoreio River from top to bottom. In doing so, he was reminded—and hopefully convinced a few friends—why it is worth venturing beyond the classics.
INTERVIEW: SCOTT LINDGREN -
The River Runner, a new documentary film by Rush Sturges, offers an intimate portrait of the legendary filmmaker and paddler Scott Lindgren. Yet, it was a film that was never supposed to happen. Scott shares the journey that led to film and how he has learned to find strength in being vulnerable.
The biggest whitewater kayaking magazine in the world. If a photo speaks a thousand words, then Kayak Session is an encyclopedia. Dubbed the 'National Geographic' of whitewater kayaking, we collaborate with some of the best photographers and most acclaimed writers in the outdoor industry. Our photo concept is to show stunning images of kayakers in their element. This photos-first idea is coupled with a creative layout and fresh content, sure to inspire our readers with every issue. Kayak Session is the essential reading for whitewater kayakers worldwide. (covers, creeking, extreme racing, freestyle, river running, waterfall running, beginners, gear test, gear reviews, environmental issues, instructional, competition, event coverage etc...)
16 other products in the same category: