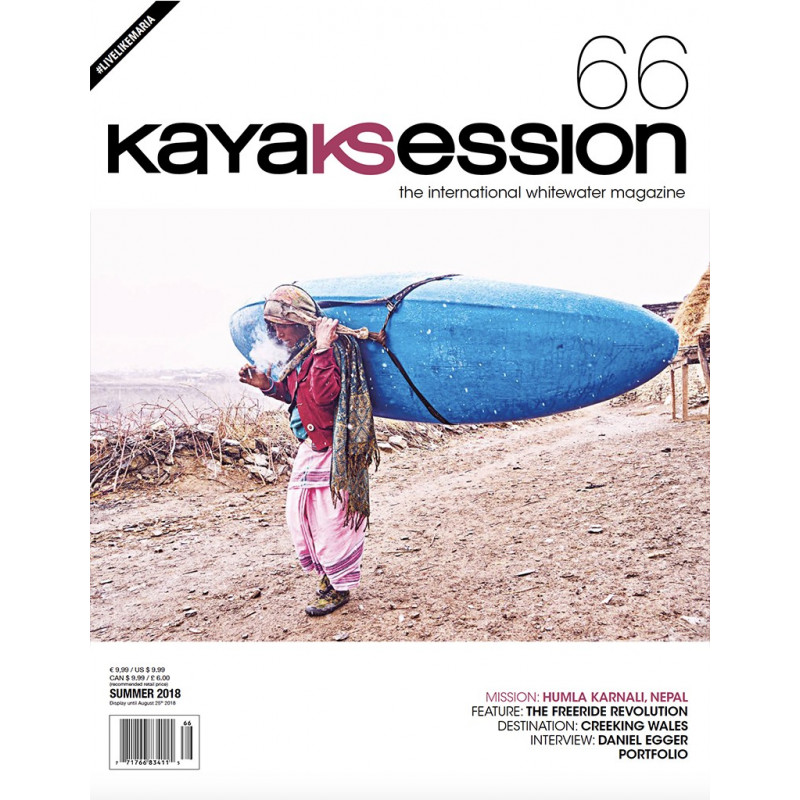  
Kayak Session Numéro 66
Kayak Session Numéro 66
Out only on May 15th!
Table of contents KS #65 Spring Issue
MISSION: LETTER FROM HUMLA -THE FIRST ALLNEPALI MISSION TO THE HUMLA KARNALI
When Anup Gurung spearheaded an all Nepalimission to the remote waters of the Humla Karnali, he didn't know that he was making history. Nor could he have anticipated the impact the trip would have on his team and those he met along the way.
FEATURE: FREERIDE-BACK TO THE FUTURE
Nick Troutman takes a look at the Freeride revolution and the fun to be had in playing the river. From freewheels to stern squirts, river running is back in action in a whole new way.
DESTINATION: HERE BE DRAGONS
CREEKING IN WALES
To the outside eye, Wales may be better known for its rugged coastlines and scenic landscapes than for its wealth of whitewater, but the best kept non-secret of the UK paddling scene is that Wales offers multitudinous river adventures. Rob Litherland takes us on a whirlwind tour of paddling in Wales, from the dawn patrols and creeks of the North to some of the lesser-known classics in the South, with plenty more in-between.
INTERVIEW-DANIEL EGGER
The best word to describe Daniel Egger must be "ubiquitous." At the age of 28, he has founded an influential paddling crew in his home country of Austria, premiered a film at the Rosenheim Film Festival, and in 2018 alone, paddled in 19 countries across Europe, Asia, and North America. We caught up with Egger to hear more about his travels and his perspective on making kayaking your life.
PORTFOLIO
The biggest whitewater kayaking magazine in the world. If a photo speaks a thousand words, then Kayak Session is an encyclopedia. Dubbed the 'National Geographic' of whitewater kayaking, we collaborate with some of the best photographers and most acclaimed writers in the outdoor industry. Our photo concept is to show stunning images of kayakers in their element. This photos-first idea is coupled with a creative layout and fresh content, sure to inspire our readers with every issue. Kayak Session is the essential reading for whitewater kayakers worldwide. (covers, creeking, extreme racing, freestyle, river running, waterfall running, beginners, gear test, gear reviews, environmental issues, instructional, competition, event coverage etc...)
16 other products in the same category: