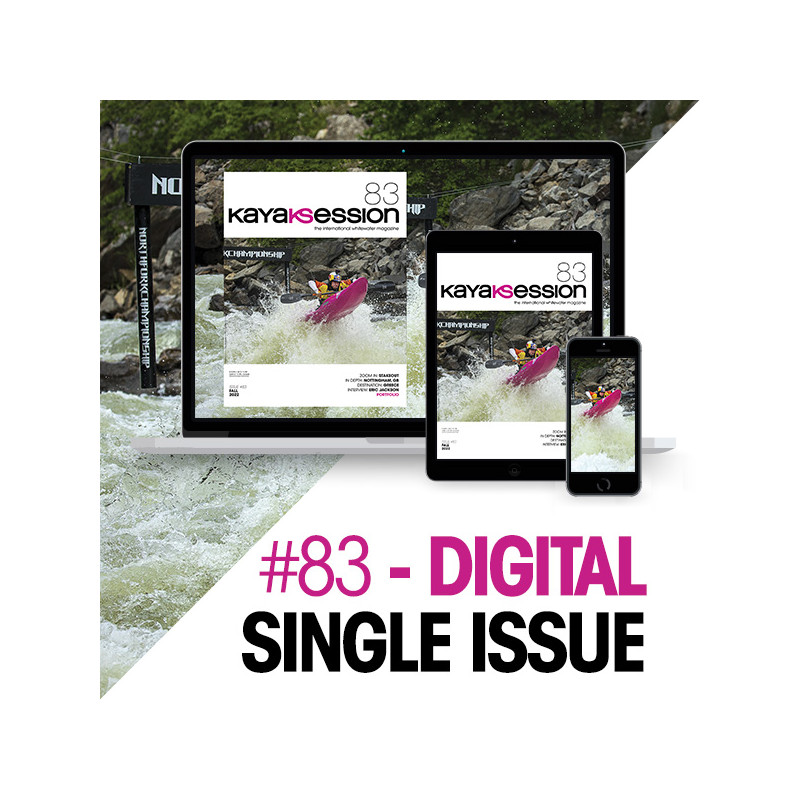  
Kayak Session Issue 83 - Digital Edition
Buy the digital edition of kayak Session #83, Fall 2022.
TOC KS 83, Fall 2022
ZOOM IN: STAKEOUT LEGACY – PROGRESSION + FLOW IN EASTERN CANADA 
DESTINATION : UNDER THE GREEK SUN – GREEK WHITEWATER FROM SOUTH TO NORTH
IN DEPTH: HOLME SWEET HOLME – NOTTINGHAM'S HOLME PIERREPONT WHITEWATER COURSE
INTERVIEW: ERIC JACKSON
+ Techniques + whitewater News + Portfolio
 Buy the digital edition of kayak Session #83, Fall 2022.
TOC KS 83, Fall 2022
ZOOM IN: STAKEOUT LEGACY – PROGRESSION + FLOW IN EASTERN CANADA
For some, the opening of the Canadian border meant only one thing this spring: Stakeout?!. Dane Jackson shares what keeps the drive for progress and the search for new waves firing on the rivers of Eastern Canada.
DESTINATION : UNDER THE GREEK SUN – GREEK WHITEWATER FROM SOUTH TO NORTH
From the Peleponnese to the Pindos Mountains, Greece has no shortage of rivers to explore. Christian Zicke takes us on a tour of the Greek classics, from Class II-V, with stops for delicious treats along the way. 
IN DEPTH: HOLME SWEET HOLME – NOTTINGHAM'S HOLME PIERREPONT WHITEWATER COURSE
Nottingham. Home to a concrete ditch known for dirty water, droves of geese and ducks, and one world's most influential whitewater communities. Andrew Snakey Whiting looks at 30+ years of history to ask, what is in the water at the Holme Pierrepont Whitewater course?
INTERVIEW: ERIC JACKSON
EJ's back! That is, if he was ever really gone, to begin with. Eric Jackson talks about his return to the world of competitive freestyle, the challenges behind the rise of his new company, Apex Kayaks, and why at age 58, there is still no counting him out.
+ Techniques + whitewater News + Portfolio
For any purchase involving a digital copy or subscription please follow the steps below:
TO GET YOUR DIGITAL EDITION, FOLLOW THE FOLLOWING STEPS & OPTIONS
STEP 1:
DOWNLOAD THE KAYAK SESSION APP TO BEGIN WITH!
APPLE/IOS: App Kayak Session Magazine or ANDROID GOOGLE PLAY : App Kayak Session Magazine
NB: or go to the App Stores searching for Kayak Session Magazine.
STEP 2:
Access your content
1. Open the app OR Go on the web app
2. Go to Profile
3. Go to Sign in
4. Click on Sign in if you already have an account
5. Don't have and account yet ? Click on Sign up
6. Enter you email (the same you used when you made your purchase)

and password and Click on Sign up (if your password does't work, click on « lost password » )
7. Go to your Library and start to read
Follow your order and download your invoice on our shop, go to the Order history and details section of your customer account.
If you have a guest account, you can follow your order via the Guest Tracking section on our shop.
16 other products in the same category: