For any purchase involving a digital copy or subscription please follow the steps below:
TO GET YOUR DIGITAL EDITION, FOLLOW THE FOLLOWING STEPS & OPTIONS
STEP 1:
DOWNLOAD THE KAYAK SESSION APP TO BEGIN WITH!
APPLE/IOS: App Kayak Session Magazine or ANDROID GOOGLE PLAY : App Kayak Session Magazine
NB: or go to the App Stores searching for Kayak Session Magazine.
STEP 2:
Access your content
1. Open the app OR Go on the web app
2. Go to Profile
3. Go to Sign in
4. Click on Sign in if you already have an account
5. Don't have and account yet ? Click on Sign up
6. Enter you email (the same you used when you made your purchase)

and password and Click on Sign up (if your password does't work, click on « lost password » )
7. Go to your Library and start to read
Follow your order and download your invoice on our shop, go to the Order history and details section of your customer account.
If you have a guest account, you can follow your order via the Guest Tracking section on our shop.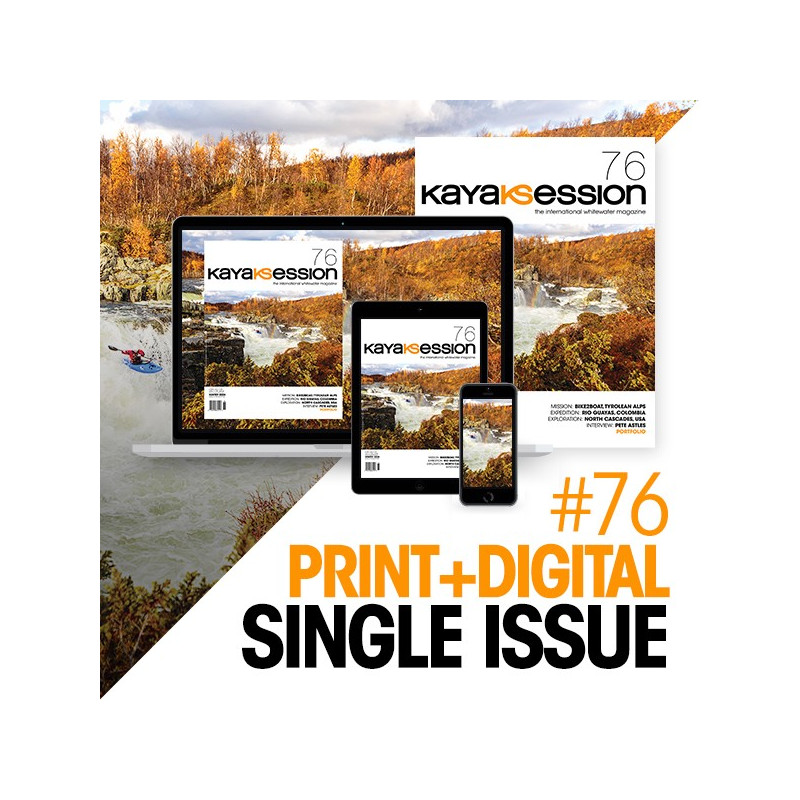  
Kayak Session Issue 76 - Print + Digital
Print + Digital Kayak Session Issue 76
MISSION: BIKE 2 BOAT Vol.3 (AUSTRIA)
EXPEDITION: RIO GUAYAS (COLOMBIA)
EXPLORATION: RIVERS OF THE NORTH CASCADES (WA, USA)
INTERVIEW: PETE ASTLES - PEAK UK FOUNDER
+ PORTFOLIO + World Whitewater News etc...
Table of contents KS #76 Winter Issue
MISSION: BIKE2BOAT - TO THE OTHER SIDE
Jens Klatt and Olaf Obsommer must be gluttons for punishment. The insatiable duo returned for the third rendition of the Bike2Boat tour, accompanied by Bren Orton and Adrian Mattern, for a slightly more "laid back" tour through the Tyrolean Alps. If you consider towing 70 kg 8000 kilometers and up 2500 meter passes laid back, that is.
EXPEDITION: RIO GUAYAS, COLOMBIA - A SECOND ATTEMPT AT A FIRST DESCENT ON ONE OF COLOMBIA'S WILDEST RIVERS.
Deep in Colombia's Southern Cordillera mountains lies the Guayas River, surrounded by coca fields and a zona roja that has kept it off the whitewater map. After hiking out in 2017, Lane Jacobs knew there was plenty of whitewater still to explore. In 2019, Jacobs returned to discover (almost) all the Guayas has to offer.
EXPLORATION: BASECAMP CASCADIA - A SUMMER EXPLORING THE RIVERS OF THE NORTH CASCADES
With international travel off the table, Chris Korbulic was forced to shift his focus a little closer to home. After parking his Airstream trailer near Wenatchee, Washington, it was time to explore both the established classics and first descents of the North Cascades.
INTERVIEW: PETE ASTLES - FROM PEAK TO PADDLE
Whether on the water or in the design room, Peak UK Founder Pete Astles brings passion, discipline, and a keen eye for opportunity. And he isn't stopping now. Pete shares his inspiration for three decades of success, plus a vision for the future that focuses first and foremost on the driving force behind it all: a love of rivers.
+ PORTFOLIO + World Whitewater News etc...
The biggest whitewater kayaking magazine in the world. If a photo speaks a thousand words, then Kayak Session is an encyclopedia. Dubbed the 'National Geographic' of whitewater kayaking, we collaborate with some of the best photographers and most acclaimed writers in the outdoor industry. Our photo concept is to show stunning images of kayakers in their element. This photos-first idea is coupled with a creative layout and fresh content, sure to inspire our readers with every issue. Kayak Session is the essential reading for whitewater kayakers worldwide. (covers, creeking, extreme racing, freestyle, river running, waterfall running, beginners, gear test, gear reviews, environmental issues, instructional, competition, event coverage etc...)
16 other products in the same category: