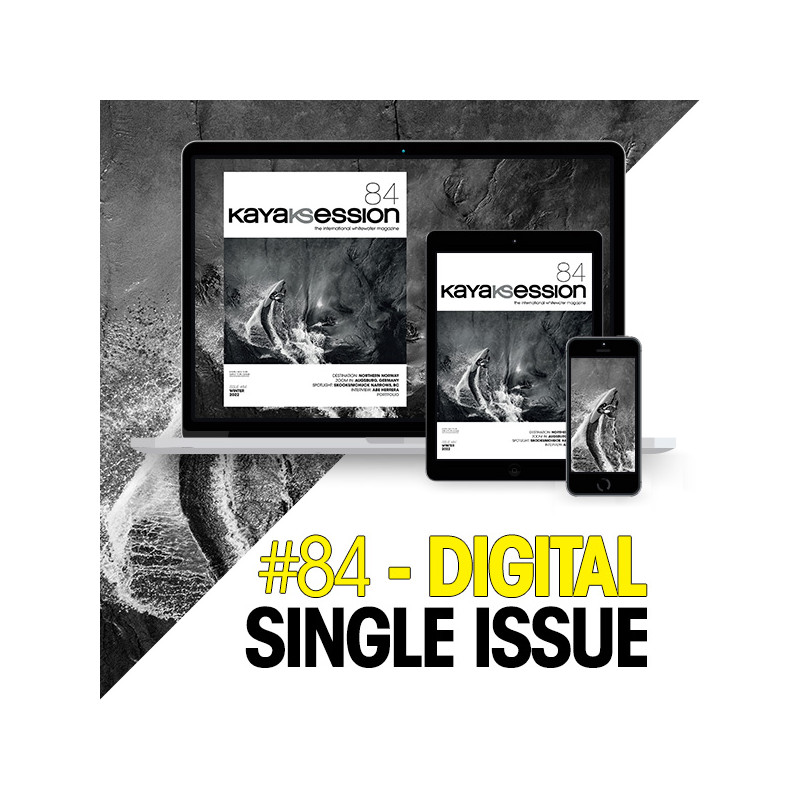  
Kayak Session Issue 84 - Digital Edition
Buy the digital edition of Kayak Session Issue 84
TOC KS 84, Winter 2022
DESTINATION: A NORTHERN REALM OF WHITEWATER       
ZOOM IN : THE LEGACY OF AUGSBURG'S EISKANAL
SPOTLIGHT: SUMMER SESSIONS AT SKOOKUMCHUCK NARROWS 
INTERVIEW: ABE HERRERA 
+ Techniques + whitewater News + Portfolio
Buy the print edition of Kayak Session Issue 84
TOC KS 84, Winter 2022
DESTINATION: A NORTHERN REALM OF WHITEWATER – HIGH WATER NORDLAND 
In the tiny town of Trofors, Norway, thundering rapids and endless wilderness have long provided an escape for the paddler seeking to get off the grid. This summer, high water proved what those living there already knew: the future of Norwegian whitewater is in the north.
ZOOM IN : GRAND CANAL – THE LEGACY OF AUGSBURG'S EISKANAL
Not far from the city of Augsburg, Germany, a small offshoot of the Lech River has changed the course of paddling history. In July 2022, the "Eiskanal," as the man-made slalom course is affectionately known, hosted the slalom World Championships, celebrating 50 years of competition and community. 
SPOTLIGHT: DREAM TIDES – SUMMER SESSIONS AT SKOOKUMCHUCK NARROWS
Is it possible to sit still while moving? To venture into another dimension while remaining in the same place? Surfing the Skookumchuck Narrows posits, yes. Benny Marr reflects on lessons learned from what is might be the kayak community's most iconic surf wave. 
INTERVIEW: ABE HERRERA
Guide, coach, safety guru, river advocate: As Abe Herrerra knows well, in Ecuador, it is impossible to be one without the other. Abe speaks to the rising challenges of ensuring the existence of Ecuadorian rivers for the future and why bringing the community together is more important than ever.
PORTFOLIO
+ Techniques + whitewater News + Portfolio
The biggest whitewater kayaking magazine in the world. If a photo speaks a thousand words, then Kayak Session is an encyclopedia. Dubbed the 'National Geographic' of whitewater kayaking, we collaborate with some of the best photographers and most acclaimed writers in the outdoor industry. Our photo concept is to show stunning images of kayakers in their element. This photos-first idea is coupled with a creative layout and fresh content, sure to inspire our readers with every issue. Kayak Session is the essential reading for whitewater kayakers worldwide. (covers, creeking, extreme racing, freestyle, river running, waterfall running, beginners, gear test, gear reviews, environmental issues, instructional, competition, event coverage etc...)
For any purchase involving a digital copy or subscription please follow the steps below:
TO GET YOUR DIGITAL EDITION, FOLLOW THE FOLLOWING STEPS & OPTIONS
STEP 1:
DOWNLOAD THE KAYAK SESSION APP TO BEGIN WITH!
APPLE/IOS: App Kayak Session Magazine or ANDROID GOOGLE PLAY : App Kayak Session Magazine
NB: or go to the App Stores searching for Kayak Session Magazine.
STEP 2:
Access your content
1. Open the app OR Go on the web app
2. Go to Profile
3. Go to Sign in
4. Click on Sign in if you already have an account
5. Don't have and account yet ? Click on Sign up
6. Enter you email (the same you used when you made your purchase)

and password and Click on Sign up (if your password does't work, click on « lost password » )
7. Go to your Library and start to read
Follow your order and download your invoice on our shop, go to the Order history and details section of your customer account.
If you have a guest account, you can follow your order via the Guest Tracking section on our shop.
16 other products in the same category: