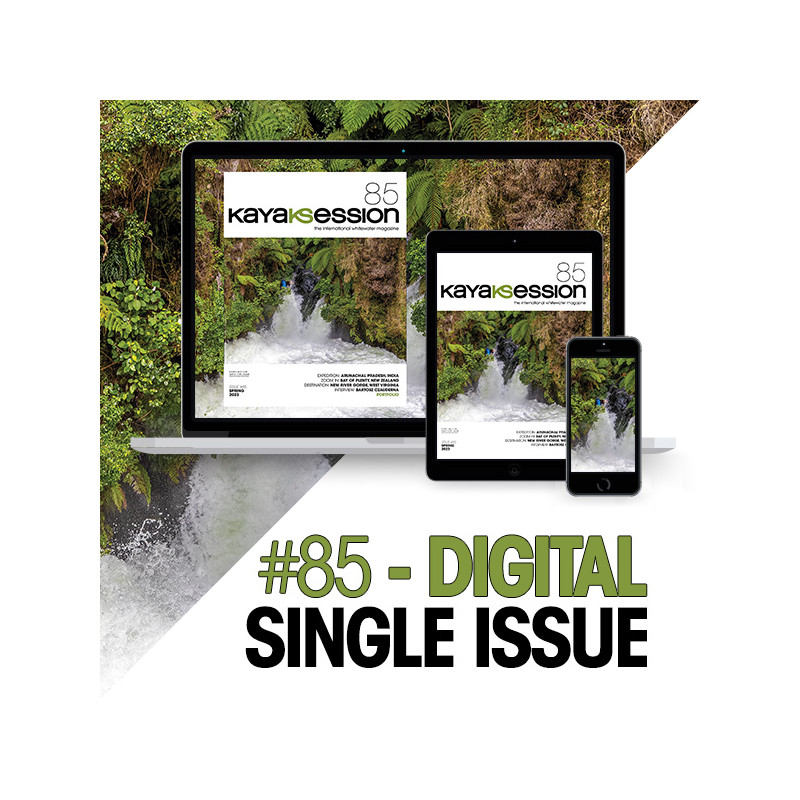  
Kayak Session Issue 85 - Digital Edition
Buy the digital edition of Kayak Session Issue 85
TOC KS 85, Spring 2023
MISSION: ARUNACHAL PRADESH, INDIA – RETURN TO THE LAND OF THE DAWN-LIT MOUNTAINS       
DESTINATION : NEW VEINS – WHITEWATER OF THE NEW RIVER GORGE
ZOOM IN: SUMMER OF STORMS – ENDLESS RAIN IN NEW ZEALAND'S BAY OF PLENTY
INTERVIEW: BARTOSZ CZAUDERNA
PORTFOLIO
+ Techniques + whitewater News 
Buy the digital edition of Kayak Session Issue 85
TOC KS 85, Spring 2023
MISSION: ARUNACHAL PRADESH, INDIA – RETURN TO THE LAND OF THE DAWN-LIT MOUNTAINS       
For Manu Vink Wackernagel, a kayaking trip to the storied waters of Arunachal Pradesh was a long-held dream. For Kristof Stursa, it was unfinished business. For Max Rayner, it was a reminder to surrounder to the power of currents unseen and be willing to trust the process.
DESTINATION : NEW VEINS – WHITEWATER OF THE NEW RIVER GORGE
Corey Lilly's grandfather made his living working veins of coal beneath the mountains of southern West Virginia. Today, Corey, like many others, looks to the rich density of whitewater coursing through the hills and hollers of the New River Gorge, bringing new life and opportunities to the towns surrounding the Kanawha River Basin.  
ZOOM IN: SUMMER OF STORMS – ENDLESS RAIN IN NEW ZEALAND'S BAY OF PLENTY
As La Niña moved the jet stream north over the eastern Pacific, New Zealand's North Island was hit with storm after storm, wreaking havoc on a typical Okere Falls summer and bringing in runs in the Kaimais with a consistency Rob Collister used to dream about
INTERVIEW: BARTOSZ CZAUDERNA
Love it Live it's Bartosz Czauderna was first introduced to the magic of freestyle kayaking on the flatwater of Poland. Now, he is sharing that love and breaking down barriers to freestyle progression—no features requires—with the publication of his new book, Freestyle Unlocked.
PORTFOLIO
+ Techniques + whitewater News 

The biggest whitewater kayaking magazine in the world. If a photo speaks a thousand words, then Kayak Session is an encyclopedia. Dubbed the 'National Geographic' of whitewater kayaking, we collaborate with some of the best photographers and most acclaimed writers in the outdoor industry. Our photo concept is to show stunning images of kayakers in their element. This photos-first idea is coupled with a creative layout and fresh content, sure to inspire our readers with every issue. Kayak Session is the essential reading for whitewater kayakers worldwide. (covers, creeking, extreme racing, freestyle, river running, waterfall running, beginners, gear test, gear reviews, environmental issues, instructional, competition, event coverage etc...)
For any purchase involving a digital copy or subscription please follow the steps below:
TO GET YOUR DIGITAL EDITION, FOLLOW THE FOLLOWING STEPS & OPTIONS
STEP 1:
DOWNLOAD THE KAYAK SESSION APP TO BEGIN WITH!
APPLE/IOS: App Kayak Session Magazine or ANDROID GOOGLE PLAY : App Kayak Session Magazine
NB: or go to the App Stores searching for Kayak Session Magazine.
STEP 2:
Access your content
1. Open the app OR Go on the web app
2. Go to Profile
3. Go to Sign in
4. Click on Sign in if you already have an account
5. Don't have and account yet ? Click on Sign up
6. Enter you email (the same you used when you made your purchase)

and password and Click on Sign up (if your password does't work, click on « lost password » )
7. Go to your Library and start to read
Follow your order and download your invoice on our shop, go to the Order history and details section of your customer account.
If you have a guest account, you can follow your order via the Guest Tracking section on our shop.
16 other products in the same category: