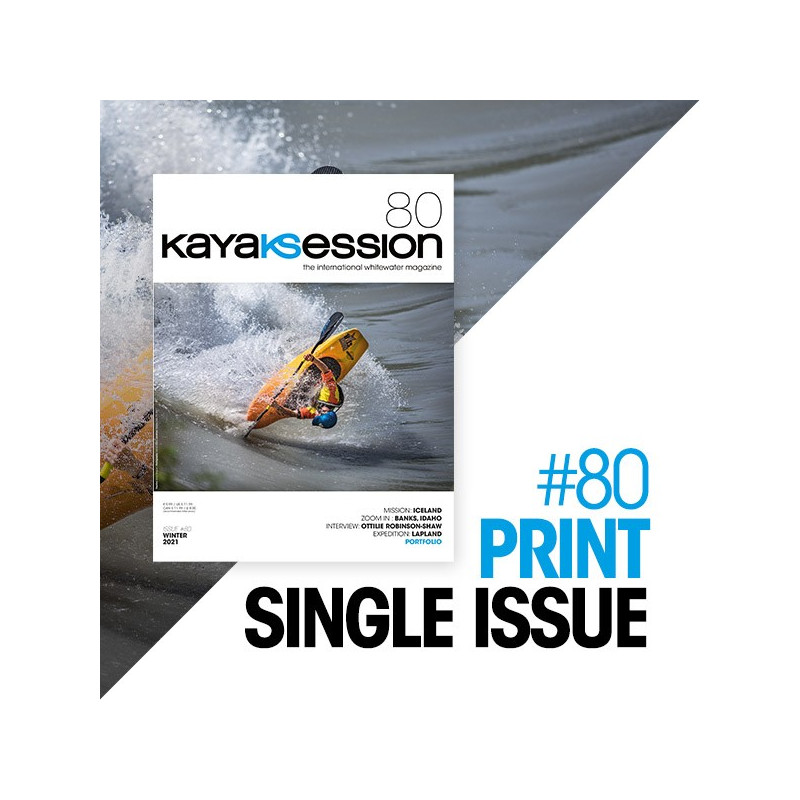  
Kayak Session Issue 80 - Print Edition
Kayak Session Issue 80 Print edition
MISSION: NO COUNTRY FOR OLD KAYAKERS - A MISSION INTO THE ICELANDIC UNKNOWN
SPOTLIGHT: BANKS, IDAHO - THE CENTER OF THE UNIVERSE
EXPLORE: ICY WATER, MIDNIGHT SUN - 11 DAYS IN LAPLAND
INTERVIEW: OTTILIE ROBINSON-SHAW
Table of contents KS #80 Winter Issue
MISSION: NO COUNTRY FOR OLD KAYAKERS - A MISSION INTO THE ICELANDIC UNKNOWN
There is no age at which we cease to be fascinated by the power of cascading water. Mikel Sarasola, Aniol Sarrasolses, and Aleix Salvat chase the melt in Iceland as they hunt for new possibilities in the land of waterfalls
SPOTLIGHT: BANKS, IDAHO - THE CENTER OF THE UNIVERSE
In the unassuming town of Banks, Idaho, population 7, the North Fork and South Fork Payette confluence, forming the Main Payette and an "eddy" that is hard to leave. Between parking lots and rivers lies one of the best and most influential zones for kayakers of all ability levels
EXPLORE: ICY WATER, MIDNIGHT SUN - 11 DAYS IN LAPLAND
Far north, inside Sweden's Padjelanta Park, lies a veritable world of water still waiting to be discovered. This summer, some of France's finest headed to Swedish Lapland to see what they could find in 11 days spent battling sunlight nights and icy water. 
INTERVIEW: OTTILIE ROBINSON-SHAW
Meet Ottie Robinson-Shaw. The young British phenomenon is setting new standards for freestyle with every title she takes. But more important than medals is spreading the joy and bettering others along the way.
The biggest whitewater kayaking magazine in the world. If a photo speaks a thousand words, then Kayak Session is an encyclopedia. Dubbed the 'National Geographic' of whitewater kayaking, we collaborate with some of the best photographers and most acclaimed writers in the outdoor industry. Our photo concept is to show stunning images of kayakers in their element. This photos-first idea is coupled with a creative layout and fresh content, sure to inspire our readers with every issue. Kayak Session is the essential reading for whitewater kayakers worldwide. (covers, creeking, extreme racing, freestyle, river running, waterfall running, beginners, gear test, gear reviews, environmental issues, instructional, competition, event coverage etc...)
16 other products in the same category: