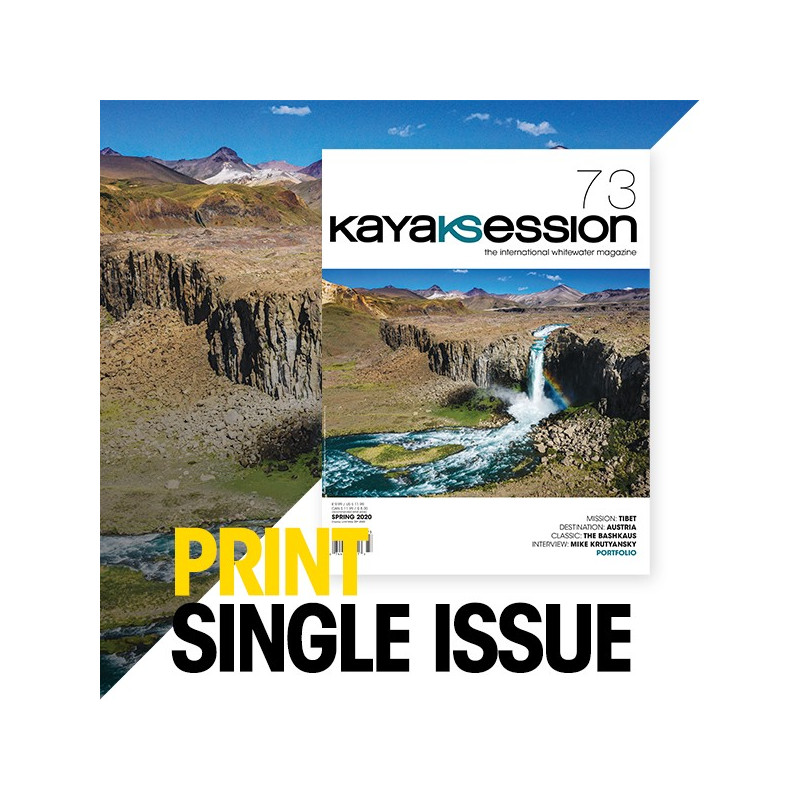  
Kayak Session Issue 73 - Print Edition
Kayak Session Numéro 73
Buy Now and get free poster with Dane JACKSON running 134 Ft Salto Del Maule in Chile, while supply lasts
Out only on March 15th!
Table of contents KS #73 Spring Issue
MISSION: TIBET - MISSION IMPOSSIBLE
Olaf Obsommer and Thilo Wietzke pulled together a team of extraordinary skill and headed into Tibet at the height of monsoon season in search of what might be the world's biggest whitewater. They found it- but paddling it was another story. It was a battle of logistics, altitude, and modern technology in this Mission: Impossible.
DESTINATION: SALT, IRON, & WHITEWATER - DISCOVERING THE RIVERS OF AUSTRIA'S LIMESTONE ALPS
The Öetz might be Austria's best-known river in the whitewater world, though it is far from all it has to offer. Kristof Stursa takes us on a whitewater tour of the Enns River drainage that will make you want to get up and go visit.
CLASSIC: THE BASHKAUS - BOOK OF LEGENDS
High on a cliff overlooking a river in Siberia's Altai mountains, a book awaits those brave enough to do battle with the rapids below. Sergey Ilin explains what makes the Bashkaus River worth a once in a lifetime trip or a river to return to over and over again.
INTERVIEW: MIKE KRUTYANSKY
Mike Krutyansky has taken his passion for rivers on the road. But instead of a personal hitlist, the modern-day nomad has used his travels to help create the whitewaterguide.app, making it easier for every paddler to experience the dream of living in a van by the river.
PORTFOLIO
The biggest whitewater kayaking magazine in the world. If a photo speaks a thousand words, then Kayak Session is an encyclopedia. Dubbed the 'National Geographic' of whitewater kayaking, we collaborate with some of the best photographers and most acclaimed writers in the outdoor industry. Our photo concept is to show stunning images of kayakers in their element. This photos-first idea is coupled with a creative layout and fresh content, sure to inspire our readers with every issue. Kayak Session is the essential reading for whitewater kayakers worldwide. (covers, creeking, extreme racing, freestyle, river running, waterfall running, beginners, gear test, gear reviews, environmental issues, instructional, competition, event coverage etc...)
16 other products in the same category: