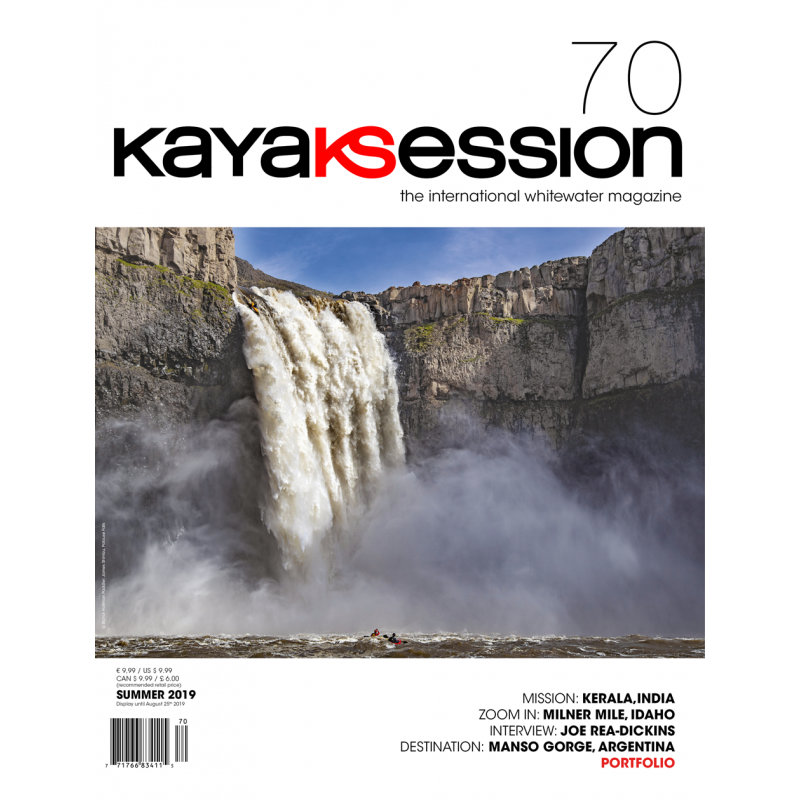  
Kayak Session Numéro 70 - Print Edition
Kayak Session Numéro 70
Out only on May 15th!
Table of contents KS #70 Summer Issue
MISSION: KAYAK, CURRY, KERALA - EXPLORATION, FAILURE, DISASTER, AND HOPE IN SOUTHERN INDIA
Like the perfect curry, which requires a delicate balance of flavors,the exploratory kayaking expedition requires an exacting balance ofwater, people, geography, and circumstance. In August 2019, Olaf Obsommer, Manu Arnu, Phil Baues, Nouria Newman and Quinn Connell headed for an exploratory mission in Kerala, India during what became the wettest monsoon season on record. Despite frustrations, Manu Arnu still finds some good in disaster.
ZOOM IN: MILNER & MURTAUGH - THE BIGGEST BIG WATER IN IDAHO
Basalt canyon walls. Birds of prey. Road-side access. And some of the biggest big water you've ever seen. Aaron Pruzan walks us through what makes the Milner Mile and Murtaugh Canyon on Idaho's Snake River so special, reminding us why paddler's voices are vital when it comes to securing river access and keeping water flowing.
DESTINATION: MANSO GORGE - A PIECE OF PATAGONIAN PARADISE
Aniol Serrasolses takes us along for a ride into Argentina's Manso Gorge, famed for its spectacular scenery and possibly perfect whitewater. From class IV boogie to intimidating waterfalls, the Manso is one trip in
Patagonia you don't want to miss.
INTERVIEW: JOE REA-DICKINS - MR. INDIA
Travels around the subcontinent with kayak and the recent publication of the Meghalaya Rivers Guidebook, have earned
Joe Rea-Dickins the nickname Mr. India, but that is far from the only place he has traveled. The mustachioed Mr. India describes how Meghalaya captured his heart, his love of travel, and where
we can expect to find him next.
+ 10 Technique pages, Shopping, Portfolio of stunning images
The biggest whitewater kayaking magazine in the world. If a photo speaks a thousand words, then Kayak Session is an encyclopedia. Dubbed the 'National Geographic' of whitewater kayaking, we collaborate with some of the best photographers and most acclaimed writers in the outdoor industry. Our photo concept is to show stunning images of kayakers in their element. This photos-first idea is coupled with a creative layout and fresh content, sure to inspire our readers with every issue. Kayak Session is the essential reading for whitewater kayakers worldwide. (covers, creeking, extreme racing, freestyle, river running, waterfall running, beginners, gear test, gear reviews, environmental issues, instructional, competition, event coverage etc...)
16 other products in the same category: