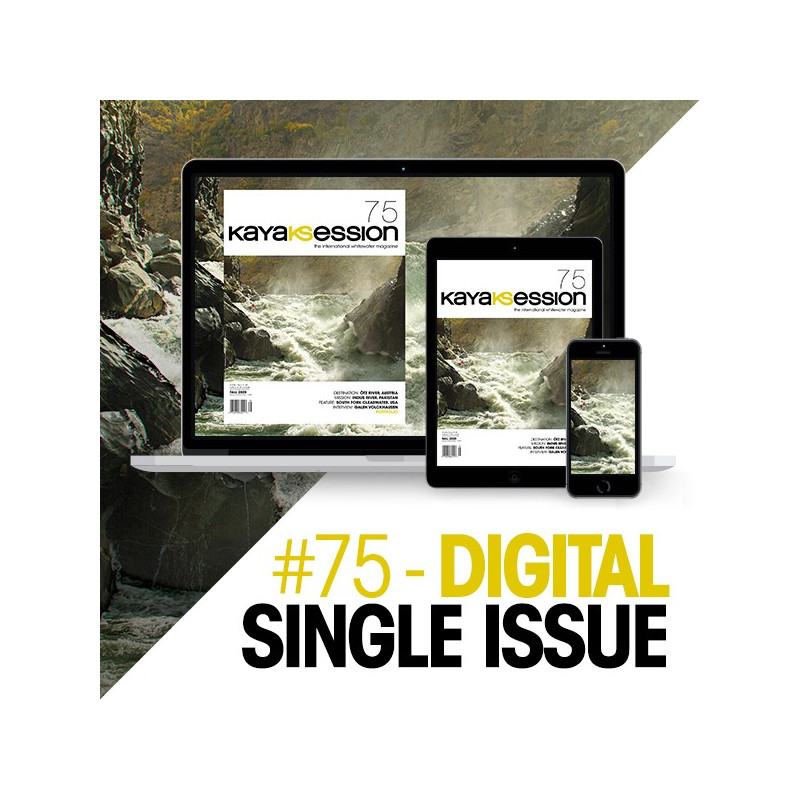  
Kayak Session Issue 75 - Digital Edition
Buy the Digital edition of Kayak Session Issue 75
MISSION: PROGRESSION ON THE INDUS - FACE TO FACE WITH MALUPA
DESTINATION: THE ÖTZ - POWERED BY GLACIERS
FEATURE: THE SOUTHFORK CLEARWATER - LEGEND OF THE GOLDEN CANYON
INTERVIEW: GALEN VOLCKAUSEN
Table of contents KS #75 Fall Issue
MISSION: PROGRESSION ON THE INDUS - FACE TO FACE WITH MALUPA
Progress can take years. Or it can happen in moments. Malupa, a raging maw of whitewater on the Indus' Rondu Gorge had teased, inspired, and beckoned paddlers for decades, yet remained unrun. Until now.
DESTINATION: THE ÖTZ - POWERED BY GLACIERS
The Ötztaler Ache flows through the Tyrolian Alps, rushing through steep, boulder-strewn valleys. Behind its brusque name are decades of European paddling history and a legacy that paddlers are fighting to protect.
FEATURE: THE SOUTHFORK CLEARWATER - LEGEND OF THE GOLDEN CANYON
For over twenty years, the South Fork of The Clearwater lay just off the radar, overshadowed by other nearby Idaho classics. But for the paddler looking for big, steep, fast, world-class whitewater, there are few better rivers in the continental USA. John Webster shares why this Idaho classic is back on the map for good.
INTERVIEW: GALEN VOLCKAUSEN
We've heard it before, and we stand by it now. Galen Volckhausen might be the most underrated kayaker in the game. Galen shares what has shaped the philosophy behind his push hard until you can't, and then push harder mentality, and how- and why- to fully embrace all that life has to offer.
+ PORTFOLIO + World Whitewater News etc...
The biggest whitewater kayaking magazine in the world. If a photo speaks a thousand words, then Kayak Session is an encyclopedia. Dubbed the 'National Geographic' of whitewater kayaking, we collaborate with some of the best photographers and most acclaimed writers in the outdoor industry. Our photo concept is to show stunning images of kayakers in their element. This photos-first idea is coupled with a creative layout and fresh content, sure to inspire our readers with every issue. Kayak Session is the essential reading for whitewater kayakers worldwide. (covers, creeking, extreme racing, freestyle, river running, waterfall running, beginners, gear test, gear reviews, environmental issues, instructional, competition, event coverage etc...)
16 other products in the same category: