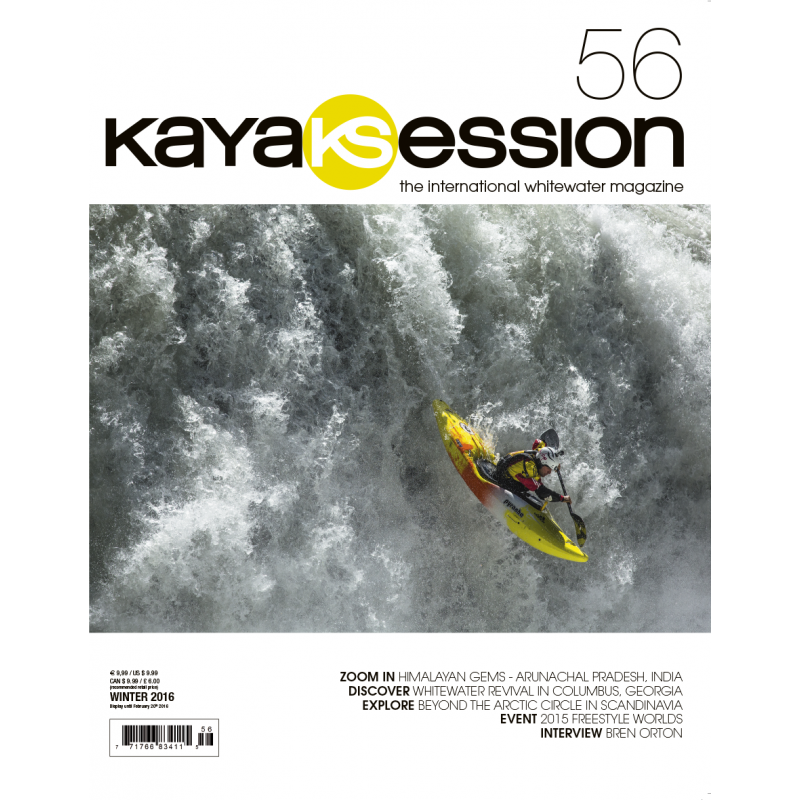  
Kayak Session Numéro 56
Kayak Session Numéro 56
Out only December 1st!
Table of contents KS #56 Winter Issue
ZOOM IN - Himalayan Gems : Arunachal Pradesh, India
A team of paddlers from the Czech Republic spent
a month in Arunachal Pradesh experiencing the classic big-water multi-day runs of this Himalayan state.
INTERVIEW : Bren Orton
From being a crowd favorite at the 2015 Freestyle Worlds to going huge at Stakeout to being claimed as the Demshitz' adopted son, Bren has already made a name for himself in the world of kayaking. Yet in a world of serious competitors, Bren's humor and humility are what stand out most.
DISCOVER - Whitewater Revival in Columbus, Ga
The town of Columbus, Georgia took down an old dam and enhanced the revealed whitewater, resulting in a new, deep South paddling hotspot where fun, bouncy whitewater draws kayakers, rafters, and tourists year round.
EVENT - 2015 ICF Freestyle Worlds
Held on the world class Garburator Wave on the Ottawa River, the 2015 Worlds pulled off a highly professional ICF event on an amazing feature that excited both athletes and spectators - it was the best of both worlds.
EXPLORE - True North : Beyond the Arctic Circle
The 700 km from the Arctic Circle to the Northern Cape has remained a blank spot on the treasure map of Norwegian whitewater. In July of 2015, four German paddlers spent a month exploring this area's remote whitewater riches.
The biggest whitewater kayaking magazine in the world. If a photo speaks a thousand words, then Kayak Session is an encyclopedia. Dubbed the 'National Geographic' of whitewater kayaking, we collaborate with some of the best photographers and most acclaimed writers in the outdoor industry. Our photo concept is to show stunning images of kayakers in their element. This photos-first idea is coupled with a creative layout and fresh content, sure to inspire our readers with every issue. Kayak Session is the essential reading for whitewater kayakers worldwide. (covers, creeking, extreme racing, freestyle, river running, waterfall running, beginners, gear test, gear reviews, environmental issues, instructional, competition, event coverage etc...)
16 other products in the same category: