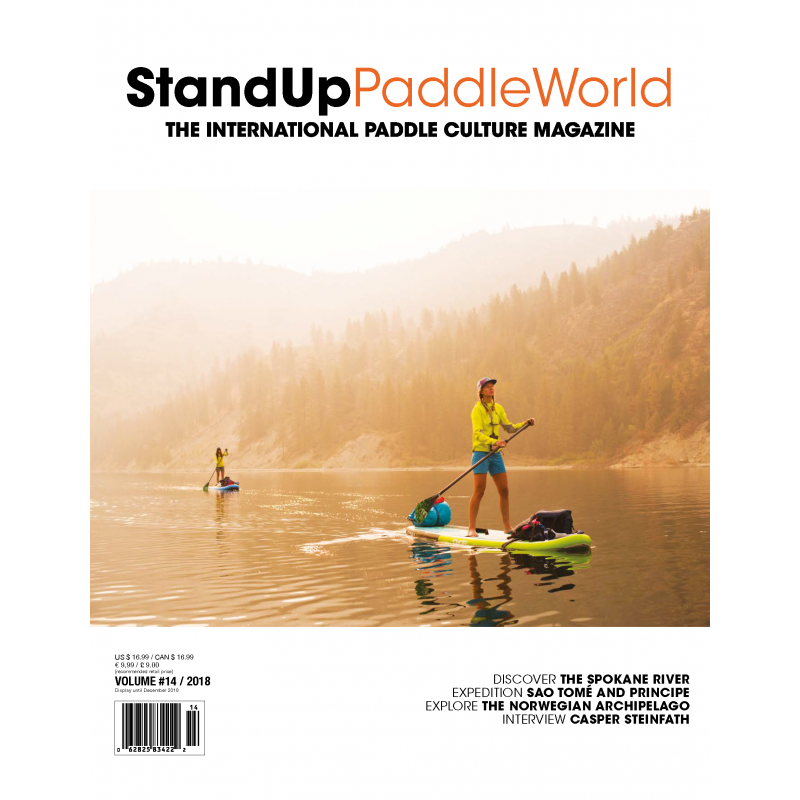  
Stand-Up Paddle World Numero 09
STAND UP PADDLE WORLD ISSUE #9 2018
DISCOVER THE SPOKANE RIVER
EXPEDITION SAO TOMÉ AND PRINCIPE
EXPLORE THE NORWEGIAN ARCHIPELAGO
INTERVIEW CASPER STEINFATH
Stand Up Paddle World Issue 09 - Table of contents
STAND UP PADDLE WORLD ISSUE #9 2018
NORWAY: THE DANCE OF THE  MIDNIGHT SUN
For more than two weeks and 250 kilometers, PlanetVisible chased the midnight sun across the Arctic Circle as they explored the remote and rugged terrain of the Norwegian Archipelago. 
BACKYARD FIRST DESCENT - SPOKANE RIVER (WA, USA)
The Spokane River travels over 100 miles on its journey through the Pacific Northwest to the join the Columbia. Jed Conklin, Alison Roskelly, and Grace Robison paddled and portaged over damns, through cities, reservations, reservoirs, and rapids to claim the first SUP descent.  
INTERVIEW: Casper Steinfath
Inspired in part by the Viking sagas of his native Denmark, 24-year-old SUP phenom Casper Steinfath recently took on the challenge of his career for the second time: crossing the Skagerrak Strait, a narrow strip of sea separating Denmark and Norway. The multiple-World Champion shares his motivations in undertaking the mythical crossing and his passion for SUP.
THE GREEN WAVE, SUP IN SAO TOME
Join Manu Bouvet and Carine Cambolives on their voyage to two, tiny African Islands in the middle of the earth as they share swell with the locals and discover a path towards a sustainable future. 
ALSO… IN PADDLE WORLD ISSUE #14 2018
EXPEDITION CAPE HORN
ENJOY OLD BAHAMA BAY 
DISCOVER THE DANUBE RIVER
EXPLORE THE MISKITO COAST
16 other products in the same category: