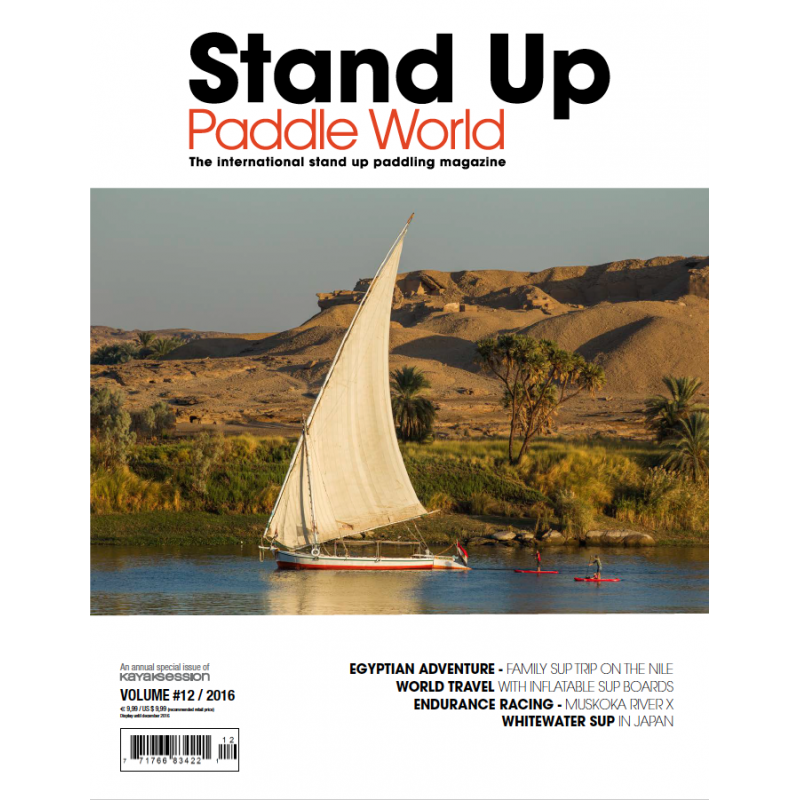  
Stand-Up Paddle World Numero 07
STAND UP PADDLE WORLD ISSUE #7 2016
EGYPTIAN ADVENTURE Family Sup Trip on The Nile
WORLD TRAVEL With Inflatable Sup Boards
ENDURANCE RACING Muskoka River X
WHITEWATER SUP In Japan
Stand Up Paddle World Issue 07 - Table of contents
STAND UP PADDLE WORLD ISSUE #7 2016
SUP Around the World
With the goal of sharing their passion for paddling with people whose lives are integrally connected the water, Bart De Zwart and Franz Orsi pack the bare minimum and commit to a world of exploration in Micronesia, Nepal, Ethiopia, Turkey and Mexico. 
SUP like an Egyptian  - A Family SUP Adventure on the Nile
Taking modern boards down an ancient river, this French family paddles the Nile River by SUP.  Local hospitality and perfect paddling conditions make this a vacation of exploration on one of the world's most culturally and historically influential rivers. 
Algonquin Outfitters Muskoka River X
How far you can push yourself in 24 hours of non-stop paddling? Endurance canoe racing events give paddlers the chance to test their skills in different climates and river conditions all over the world. For the Algonquin Outfitters Muskoka River X Race, this means following in the footsteps of early voyagers and seeing Canada as the explorers did - from the water. 
SUP in Japan  
Landing in Tokyo, seven American paddlers pack into a mini van and tour Japan, experiencing its whitewater rivers, races, and SUP culture. Thanks to their ever-growing circle of Japanese friends, the group is treated to an epic three-week adventure on the island of the rising sun. 
PADDLE WORLD ISSUE #12 2016
KAYAK FISHING Meets Exploration Paddling
ENDURANCE RACING Muskoka River X
OVERNIGHT On Arizona's Salt River
SEA KAYAKING In South Sweden
16 other products in the same category: