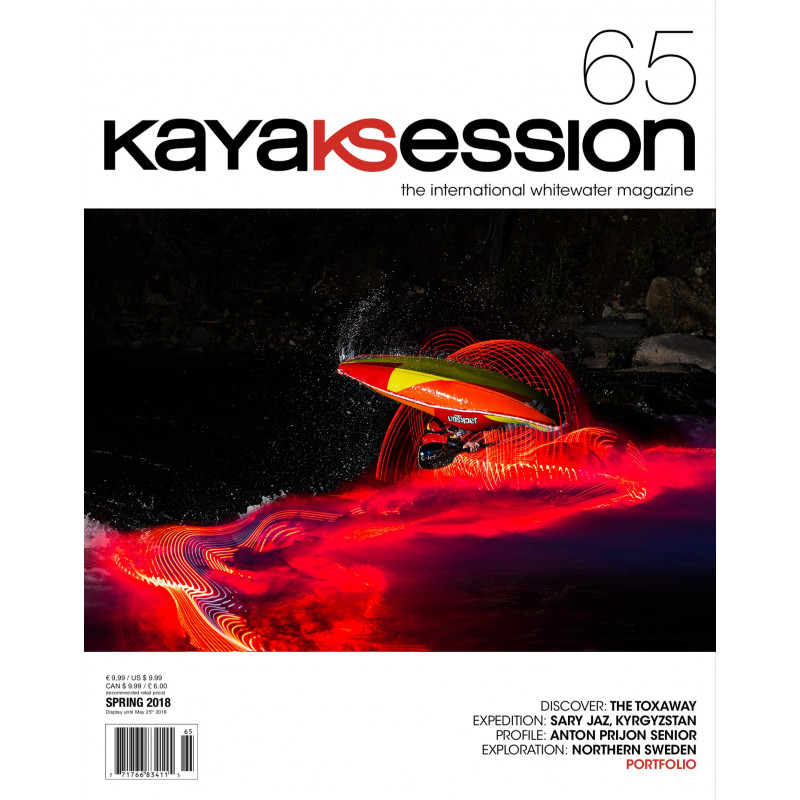  
Kayak Session Numéro 65
Kayak Session Numéro 65
Out only on March 15th!
Table of contents KS #65 Spring Issue
EXPEDITION: KYRGYZSTAN, THE SARY JAZ
A team of international boaters venture high into the mountains of Kyrgyzstan for a descent of the elusive Sary Jaz. Eight days of deep gorges, high mountain peaks, alpine traverses, and world-class whitewater made it an experience of a lifetime.
DISCOVER: THE TOXAWAY, TEN REASONS WHY PAT KELLER LOVES THE TOXAWAY
The Toxaway River is a little piece of California tucked deep into the woods of North Carolina. Pat Keller takes us on a tour of this South East gem, explaining what makes it one of his favorite rivers. 
EXPLORATION: THE VUOJATÄDNO PROJECT, PADDLING SWEDEN'S PADJELANTAN TRAIL
Near the border of Norway and Sweden lies a remote chain of lakes connected by never-before paddled whitewater. After years of wondering what the outflows held, in July 2017 Sebastian Gründler and Ulrich Kittelberger decided it was time to find out. A three-day mission across 60 kilometers of lakes and a flooded Vuojatädno River proved that this is a region worth exploring. 
PROFILE, WHITEWATER LEGEND ANTON PRIJON SR. 
Anton Prijon Senior might be the most influential man in modern whitewater history. The founder of Prijon Kayaks was a Word Champion, fathered a World Champion, paddled through the transition from folding boats to modern kayaks, manufactured some of the first blow-molded plastic boats, and forever changed the shape of the industry by creating one of the first international kayak factories. Prijon's life story is a tale of success and chance you have to read to believe. 
The biggest whitewater kayaking magazine in the world. If a photo speaks a thousand words, then Kayak Session is an encyclopedia. Dubbed the 'National Geographic' of whitewater kayaking, we collaborate with some of the best photographers and most acclaimed writers in the outdoor industry. Our photo concept is to show stunning images of kayakers in their element. This photos-first idea is coupled with a creative layout and fresh content, sure to inspire our readers with every issue. Kayak Session is the essential reading for whitewater kayakers worldwide. (covers, creeking, extreme racing, freestyle, river running, waterfall running, beginners, gear test, gear reviews, environmental issues, instructional, competition, event coverage etc...)
16 other products in the same category: