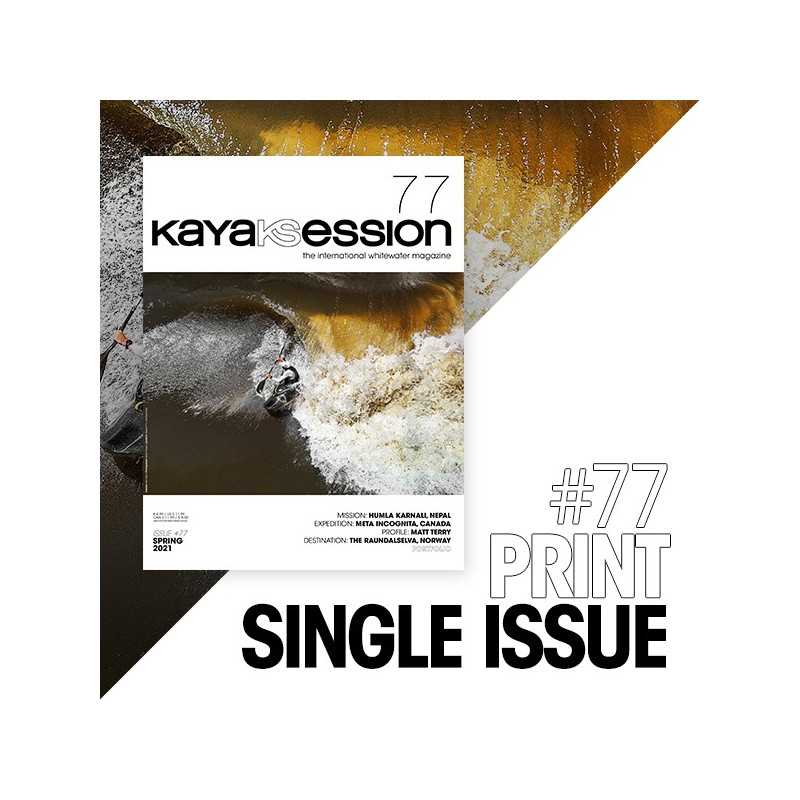  
Kayak Session Issue 77 - Print Edition
Kayak Session Issue 77 Print edition
DESTINATION: RAUNDALSELVA (NORWAY) A RIVER WORTH FIGHTING FOR
MISSION: THE TEARS OF SHIVA - EXPLORING THE HUMLA KARNALI, NEPAL'S SACRED RIVER CORRIDOR
EXPEDITION: META INCOGNITA - A WATERFALL TOUR OF THE META INCOGNITA PENINSULA
PROFILE: MATT TERRY & THE ECUADORIAN RIVERS INSTITUTE
Table of contents KS #77 Spring Issue
DESTINATION: RAUNDALSELVA - A RIVER WORTH FIGHTING FOR
Dag Sandvik shares the magic of the free-flowing Raundalselva, explaining how this Norwegian classic has shaped the community of Voss and why, almost 40 years after it first received preservation status, the Raudelselva is still worth fighting for.
MISSION: THE TEARS OF SHIVA - EXPLORING THE HUMLA KARNALI, NEPAL'S SACRED RIVER CORRIDOR
Mikel Sarasola, Todd Wells, Aniol Serrasolses, and Surjan Tamang join forces with the Nepali River Conservation Trust to showcase the beauty and value of Nepal's Sacred River Corridor, starting with a descent of Shiva's Gorge.
EXPEDITION: META INCOGNITA - A WATERFALL TOUR OF THE META INCOGNITA PENINSULA
With plans canceled and travel on hold, Erik Boomer and Sarah McNair-Landry turned to their backyard in Baffin Island in search of new rivers. The catch? Reaching the best whitewater required hiking from river valley to river valley, with boats, food, gear, and camping kit- including the Arctic essentials of bear fence and shotgun.
PROFILE: MATT TERRY & THE ECUADORIAN RIVERS INSTITUTE
Ecuadorian Rivers Institute founder Matt Terry went to Ecuador over two decades ago as a talented paddler searching for new descents. For reasons that author Chandra Brown believes are entwined in his very character, he stayed, fighting for the health and future of Ecuador's rivers, and inspiring others along the way.
The biggest whitewater kayaking magazine in the world. If a photo speaks a thousand words, then Kayak Session is an encyclopedia. Dubbed the 'National Geographic' of whitewater kayaking, we collaborate with some of the best photographers and most acclaimed writers in the outdoor industry. Our photo concept is to show stunning images of kayakers in their element. This photos-first idea is coupled with a creative layout and fresh content, sure to inspire our readers with every issue. Kayak Session is the essential reading for whitewater kayakers worldwide. (covers, creeking, extreme racing, freestyle, river running, waterfall running, beginners, gear test, gear reviews, environmental issues, instructional, competition, event coverage etc...)
16 other products in the same category: