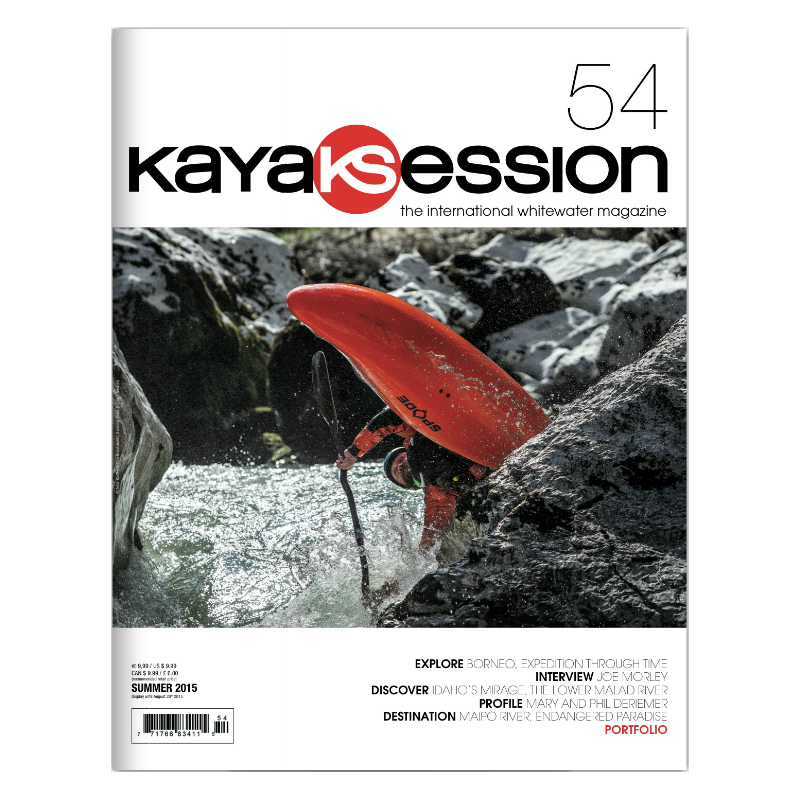  
Kayak Session Numéro 54
Kayak Session Numéro 54
Out only May 15th!
Table of contents
EXPLORE: Borneo-Expedition Through Time
Dense and dramatic jungle, minimal infrastructure and limited information led to no shortage of logistical challenges for a team that recently completed a four-month rolling expedition on the island of Borneo.
INTERVIEW: Joe Morley
Joe Morley has made a name for himself as a winning machine within the extreme racing circuit. The combination of fierce competitiveness and sharp, ever-ready Brit sense of humor make him a favorite contender both on and off the water.
DISCOVER: Idaho's Mirage – The Lower Malad River
Hidden amongst the gently rolling hills and flat farmlands of the Snake River Plain in South Central Idaho, the Lower Malad River is an improbable oasis of continuous, blue-green, class IV whitewater.
PROFILE: Mary and Phil DeRiemer
Widely known for their three-plus decades of instructing and guiding, their sunshine bright attitudes, and their endless wells of patience, the DeRiemers are a love story, a kayaker's tale, and a business model.
DESTINATION: Maipo River – Endangered Paradise
Just an hour outside Santiago, Chile, the Maipo River Canyon boasts diverse whitewater options, a backdrop of the Chilean Andes, and a variety of other adventure sports. Tragically, this outdoor recreation paradise is imminently under threat from a super scale hydroelectric project.
TECHNIQUES with Marianne Saether, Doctor Jessie Stone, Rush Sturges, Eric jackson, Jules Domine
PORTFOLIO
16 other products in the same category: