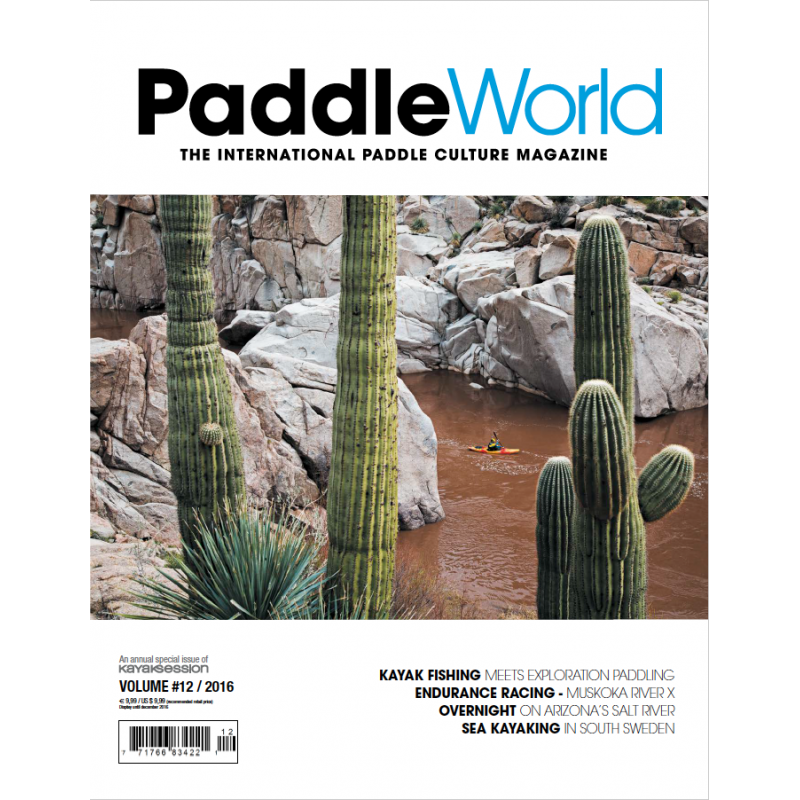  
Paddle World Numero 11
PADDLE WORLD ISSUE #12 2016
KAYAK FISHING Meets Exploration Paddling
ENDURANCE RACING Muskoka River X
OVERNIGHT On Arizona's Salt River
SEA KAYAKING In South Sweden
Paddle World Issue 12 - Table of contents
PADDLE WORLD ISSUE #12 2016
Salt River – Desert Dreaming 
Just two hours east of Phoenix, Arizona, the Salt River winds through the sparsely populated canyon country of the Southwestern US. Over 50 fabulous miles of spectacular scenery and remote campsites make this river a paddling paradise and a bucket-list descent for whitewater paddlers of all abilities.  
Algonquin Outfitters Muskoka River X
How far you can push yourself in 24 hours of non-stop paddling? Endurance canoe racing events give paddlers the chance to test their skills in different climates and river conditions all over the world. For the Algonquin Outfitters Muskoka River X Race, this means following in the footsteps of early voyagers and seeing Canada as the explorers did - from the water. 
Bringing the 'Kayaking' into Kayak Fishing 
James McBeath of Jackson Kayaks takes a look at how fishing from a kayak is not just a way to get closer to the fish, but is also means to add more adventure and exploration to the sport. 
Sweden's Skerries – Traveling by Tailwind
With careful planning, and their eye on the forecast, Hao Qian and Björn Nehrhoff von Holderberg put the wind at their backs as they explore the south coast of Sweden. Sea kayaking from island to island the couple paddle the calm, sheltered bays and the cold Baltic Sea, discovering the hidden gems that make up the archipelago.
STAND UP PADDLE WORLD ISSUE #7 2016
EGYPTIAN ADVENTURE Family Sup Trip on The Nile
WORLD TRAVEL With Inflatable Sup Boards
ENDURANCE RACING Muskoka River X
WHITEWATER SUP In Japan
16 other products in the same category: