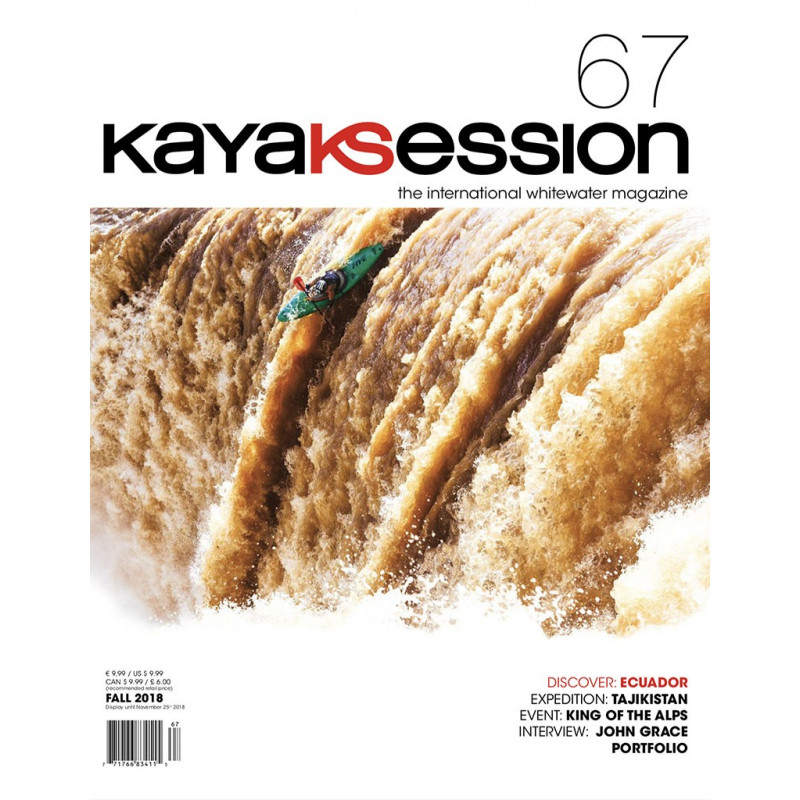  
Kayak Session Numéro 67
Kayak Session Numéro 67
Out only on August 1st!
Table of contents KS #67 Fall Issue
EXPEDITION: TAJIKISTAN - Conquering the Musku River
When it came to completing the Whitewater Triple Crown of the former Soviet Union, Tomass Marnics and his team did not have it easy. Phillip Baues shares their arduous journey over 6000-meter peaks and into one of the most committed river canyons on earth. 
DISCOVER: ECUADOR OFF THE BEATEN PATH – A FORAY PAST THE CLASSICS
Abe Herrera takes us past the classics of a two-week paddling trip to introduce some lesser-known rivers that give all the more reason to visit Ecuador. 
EVENT: KING OF THE ALPS – THE BEST OF BOTH WORLDS
With close to 200 competitors in 2018, King of The Alps can undoubtedly lay claim to being the largest and most prestigious Extreme Race in Europe today. Kayak Session's Philippe Doux finds out what it is that makes this race stand out. 
INTERVIEW: JOHN GRACE
John Grace is one of the most influential voices in whitewater today. He organizes the annual Green Race, has first descents on most of the now-infamous High Sierra Runs, and produces the Hammer Factor podcast. We caught up with "Grace," as he is known, to get his take on today's kayak scene and the magic of whitewater. 
PORTFOLIO
The biggest whitewater kayaking magazine in the world. If a photo speaks a thousand words, then Kayak Session is an encyclopedia. Dubbed the 'National Geographic' of whitewater kayaking, we collaborate with some of the best photographers and most acclaimed writers in the outdoor industry. Our photo concept is to show stunning images of kayakers in their element. This photos-first idea is coupled with a creative layout and fresh content, sure to inspire our readers with every issue. Kayak Session is the essential reading for whitewater kayakers worldwide. (covers, creeking, extreme racing, freestyle, river running, waterfall running, beginners, gear test, gear reviews, environmental issues, instructional, competition, event coverage etc...)
16 other products in the same category: