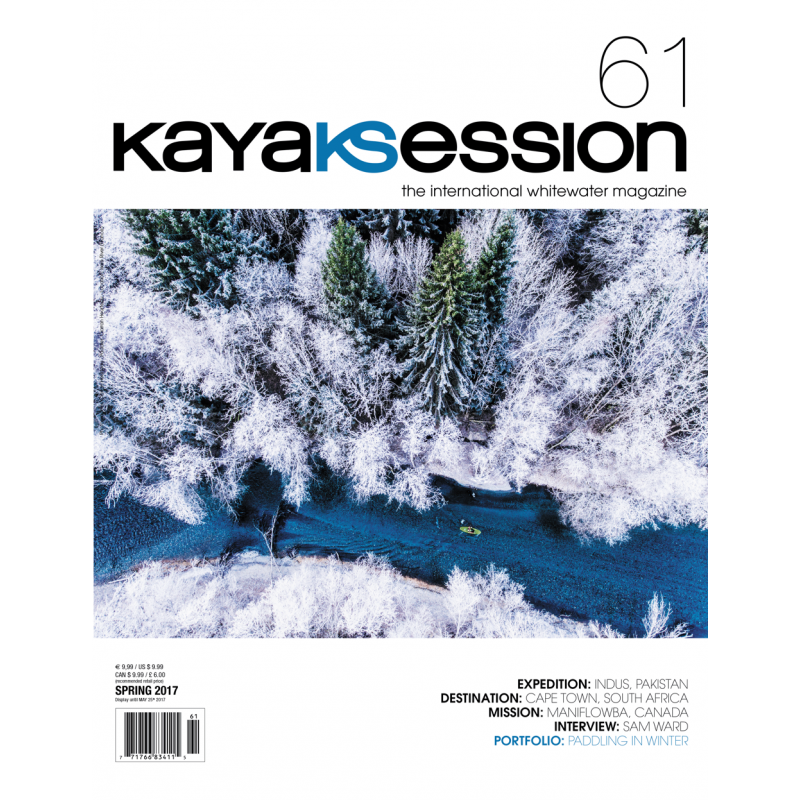  
Kayak Session Numéro 61
Kayak Session Numéro 61
Out only on March 15th!
Table of contents KS #61 Spring Issue
EXPEDITION: INDUS, PAKISTAN
The holy land for waterfalls. Kayaking in Iceland is like a right of passage for those looking to test their freefalling abilities. A group of friends with a range of paddling abilities take on the mystical island and enjoy the challenges and thrills of pushing personal limits in a land of giants.
INTERVIEW:  SAM WARD
The man behind Kayak the Nile and the Nile River Festival. Sam Ward opens up about freestyle, life, what drew him to Uganda, and what is keeping him there despite the looming threat of the Isimba Dam.
MISSION: MANIFLOWBA, CANADA
Lured by an iPhone photo, a team of the world's best big wave surfers head north to Manitoba in search of the perfect river wave. What they found made them fall in love with kayaking all over again.
DESTINATION: CAPE TOWN, S.AFRICA
Andrew Kellett introduces some hidden gems of South Africa's Western Cape. His hit-list includes rivers from committed class 5 to scenic grade 2, opening the gates to a new paddling paradise.
PORTFOLIO: PADDLING IN WINTER
The biggest whitewater kayaking magazine in the world. If a photo speaks a thousand words, then Kayak Session is an encyclopedia. Dubbed the 'National Geographic' of whitewater kayaking, we collaborate with some of the best photographers and most acclaimed writers in the outdoor industry. Our photo concept is to show stunning images of kayakers in their element. This photos-first idea is coupled with a creative layout and fresh content, sure to inspire our readers with every issue. Kayak Session is the essential reading for whitewater kayakers worldwide. (covers, creeking, extreme racing, freestyle, river running, waterfall running, beginners, gear test, gear reviews, environmental issues, instructional, competition, event coverage etc...)
16 other products in the same category: