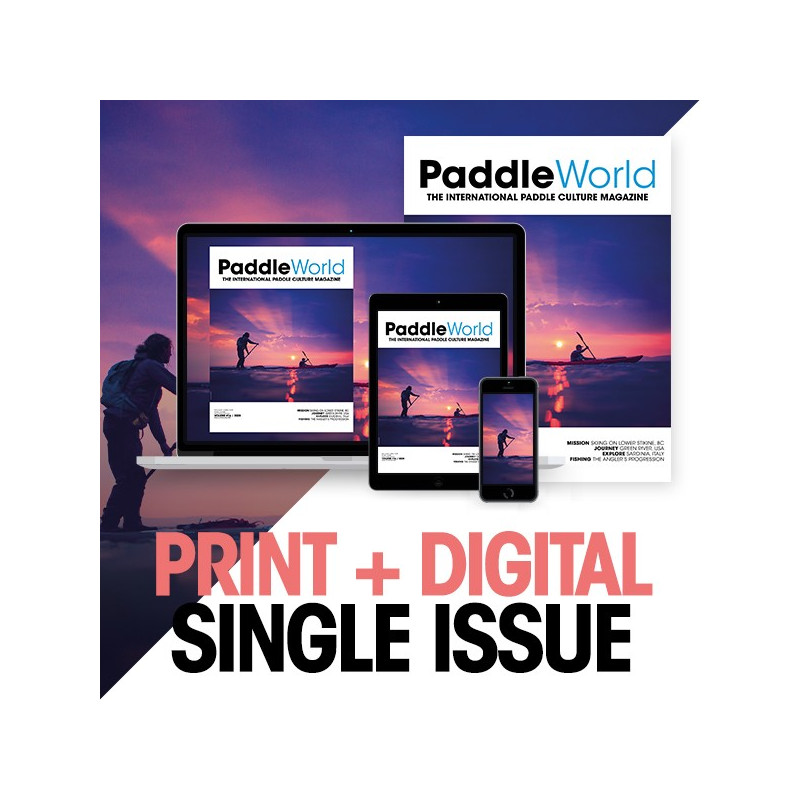  
Print + Digital Paddle World Numero 16
Buy the PRINT + DIGITAL Issue of PADDLE WORLD ISSUE #16 
 MISSION: SEA KAYAK + SKI ALONG THE STIKINE I JOURNEY: WILD, WILD, WEST, CANOEING THE GREEN RIVER CANYON I EXPLORE: BEACHCOMBING IN SARDINIA I FISHING: LIKE A FISH TO WATER I EXPLORE: SUP CEYLON STORIES I SUP RACING: THE RIGHT TO A WORLD CHAMPIONSHIP I DESTINATION: HAMBURG I MISSION: FAR NORTH SUP MOUNTAIN RIVER
Paddle World Issue 16 - Table of contents
PADDLE WORLD ISSUE #16 2020
Paddle World Issue 16 - Table of contents
PADDLE WORLD ISSUE #16 2020
MISSION: GREAT RIVER
The Stikine River has a storied history, from the legendary whitewater of its Grand Canyon to the awe-inspiring beauty of its lower reaches. Join Jasper Gibson and friends as they write their chapter on the Stikine with a multi-sport sea kayaking and skiing mission in a wilderness one can experience, but never conquer.
JOURNEY: WILD, WILD, WEST
For author Björn Nehrhoff, canoeing along Utah's Green River was like paddling through the wild west of days gone by. Come along for this classic canoe trip on Stillwater Canyon
EXPLORE: BEACHCOMBING IN SARDINIA
Sardinia, famed isle of luxury and glamor. Yet, for the venturesome, there is a simpler side to this island paradise. Comb lesser-known beaches and revel in the island's raw beauty to find out why the Kellett family found Sardinia to be best explored by sea kayak.
FISHING: LIKE A FISH TO WATER
Kayak angling is one of the fastest growing sports in the world. Jackson Kayak's James McBeath shares a few tips, tricks, and hard-earned lessons for anglers as they inadvertently become kayakers in their search for the next catch.
EXPLORE: CEYLON STORIES
Once considered an off-the-beaten-path adventure destination, Sri Lanka is increasingly making a name for itself as a SUP and surf destination. Photographer Laurent Nevarez returns to Sri Lanka after an eight-year hiatus with BIC Sport athlete Alexis Deniel to find there is still plenty left to discover.
SUP RACING: THE RIGHT TO A WORLD CHAMPIONSHIP
The battle over who has the right to be SUP's governing body persists. Despite a legal battle with the ISA, the ICF is fighting back, using events like the 2019 ICF SUP World Championship in Qingdao, China, to broaden SUP's exposure and provide high-level competition to challenge the world's best.
DESTINATION HAMBURG
 Hamburg is a city built on water. A diverse mix of rivers, lakes, and more canals and bridges than Venice means this unassuming SUP paradise has a wide range of easily accessible urban, suburban, and tidal adventures waiting for you to come and discover.
MISSION: FAR NORTH SUP MOUNTAIN RIVER
Deep in Canada's Northwest Territories is the aptly-named Mountain River. Jim Martinello and friends tackle the first SUP descent of this holy-grail of multi-day river trips, paddling through rapids and ascending mountain peaks in hopes of drawing awareness and inspiring others to protect the region's raw wilderness.
For any purchase involving a digital copy or subscription please follow the steps below:
TO GET YOUR DIGITAL EDITION, FOLLOW THE FOLLOWING STEPS & OPTIONS
STEP 1:
DOWNLOAD THE KAYAK SESSION APP TO BEGIN WITH!
APPLE/IOS: App Kayak Session Magazine or ANDROID GOOGLE PLAY : App Kayak Session Magazine
NB: or go to the App Stores searching for Kayak Session Magazine.
STEP 2:
Access your content
1. Open the app OR Go on the web app
2. Go to Profile
3. Go to Sign in
4. Click on Sign in if you already have an account
5. Don't have and account yet ? Click on Sign up
6. Enter you email (the same you used when you made your purchase)

and password and Click on Sign up (if your password does't work, click on « lost password » )
7. Go to your Library and start to read
Follow your order and download your invoice on our shop, go to the Order history and details section of your customer account.
If you have a guest account, you can follow your order via the Guest Tracking section on our shop.
16 other products in the same category: