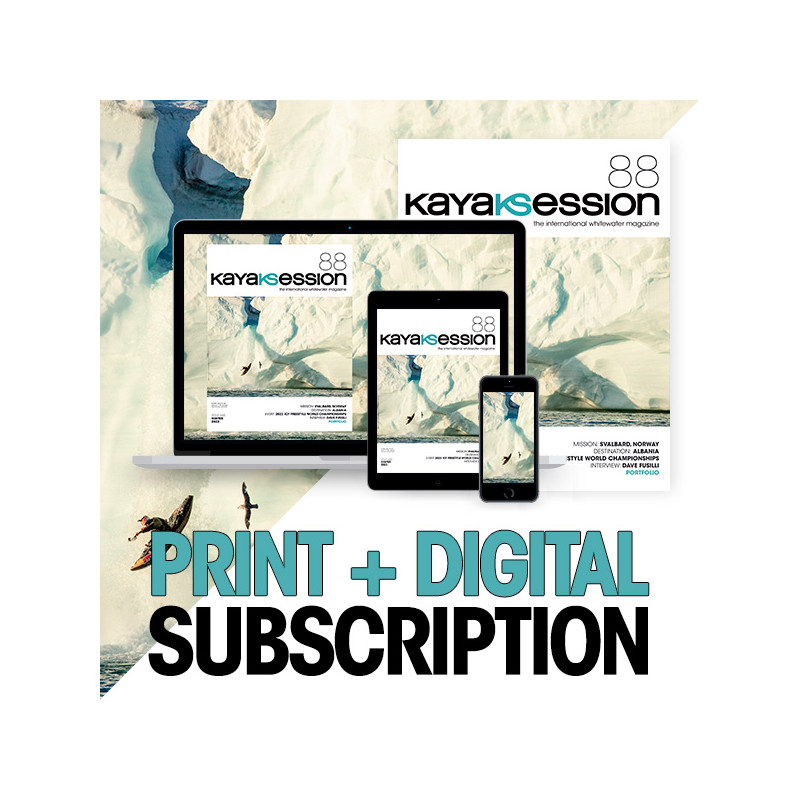  
Print + Digital subscription Kayak Session
SUBSCRIBE TO THE PRINT AND DIGITAL EDITION OF KAYAK SESSION THE INTERNATIONAL WHITEWATER MAGAZINE


CURRENT ISSUE, KS 88 – WINTER 2023
MISSION: SVALBARD – BORN OF ICE
DESTINATION: ALBANIA—WITH A DASH OF MONTENEGRO - DISCOVERING EUROPE'S BLUE HEART
EVENT: RESURGENCE – THE 2023 ICF FREESTYLE WORLD CHAMPIONSHIPS
INTERVIEW: Dave Fusilli
PORTFOLIO
+ Techniques + whitewater News + Product Wish List
SUBSCRIBE TO THE PRINT AND DIGITAL EDITION OF KAYAK SESSION THE INTERNATIONAL WHITEWATER MAGAZINE
Current Issue, KS 88 - Winter 2023
 MISSION: SVALBARD – BORN OF ICE         
Multiple years of dreaming and planning finally paid off when Aniol Serrasolses boarded a ship and headed to the Arctic Circle, hunting fleeting rapids formed by rapidly melting glaciers and pushing the boundaries of the sport. 
DESTINATION: ALBANIA—WITH A DASH OF MONTENEGRO - DISCOVERING EUROPE'S BLUE HEART
Despite a tumultuous past under ruthless dictator, Kristof Stursa found a warm and welcoming country with whitewater that promises to attract any paddler.
EVENT: RESURGENCE – THE 2023 ICF FREESTYLE WORLD CHAMPIONSHIPS
A return to "Wave Worlds" this fall brought new faces, ideas, and passion to ICF freestyle competitions. But Good Wave didn't make it easy. Nothing was a given on this dynamic and volatile feature—even the event itself.  
INTERVIEW: DAVE FUSILLI
It's hard not to love Dave Fusilli. Or to want to be him. At least for a day. With a smooth style and one of the most welcoming attitudes in the industry, Dave ranks among the most influential paddlers of the past few decades.
PORTFOLIO
+ Techniques + whitewater News + Product Wish List
KS-Print-Digital-Subscription
Specific References
upc

567086
For any purchase involving a digital copy or subscription please follow the steps below:
TO GET YOUR DIGITAL EDITION, FOLLOW THE FOLLOWING STEPS & OPTIONS
STEP 1:
DOWNLOAD THE KAYAK SESSION APP TO BEGIN WITH!
APPLE/IOS: App Kayak Session Magazine or ANDROID GOOGLE PLAY : App Kayak Session Magazine
NB: or go to the App Stores searching for Kayak Session Magazine.
STEP 2:
Access your content
1. Open the app OR Go on the web app
2. Go to Profile
3. Go to Sign in
4. Click on Sign in if you already have an account
5. Don't have and account yet ? Click on Sign up
6. Enter you email (the same you used when you made your purchase)

and password and Click on Sign up (if your password does't work, click on « lost password » )
7. Go to your Library and start to read
Follow your order and download your invoice on our shop, go to the Order history and details section of your customer account.
If you have a guest account, you can follow your order via the Guest Tracking section on our shop.
16 other products in the same category: