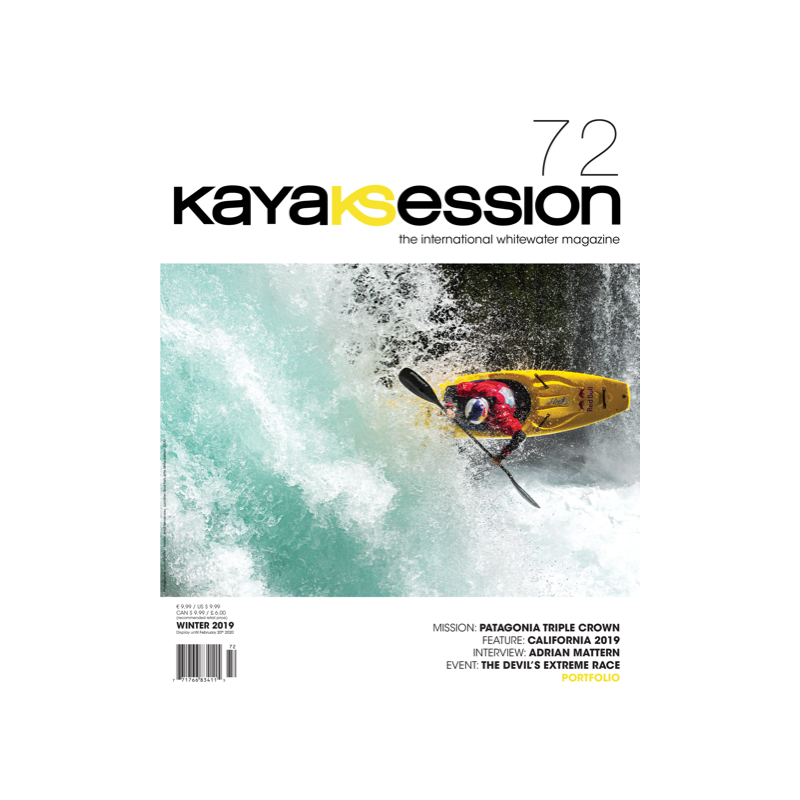  
Kayak Session Numéro 72 - Print Edition
Kayak Session Numéro 72
Out only on November 15th!
Table of contents KS #72 Winter Issue
MISSION: PATAGONIA TRIPLE CROWN
Ben Stookesberry, Erik Boomer, and Nouria Newman embark on a journey of picnics and first descents across Southern Chile. As they attempted to check off the Pascua and the Bravo, they couldn't resist adding in the Engano and the Ano Nuevo, among others. Along the way, they found that sometimes the mission is less about the rivers and rapids you run than the journey itself.
FEATURE: CALIFORNIA 2019
A strong snowpack in the Sierra Mountains offers the tantalizing possibility of a California season to remember. Sure enough, high water abounded throughout the Golden State in 2019, but California's whitewater proved a fickle mistress. Though flows were far from predictable, they proved there is always something to paddle in Cali.
INTERVIEW: ADRIAN MATTERN
As a kid, Adrian Mattern dreamed of someday running the waterfalls he had posters of on his bedroom walls. Now, the 24-year old German native is inspiring a new generation of paddlers with his wide-ranging skillset and direct style. His secret? A little bit of luck, a lot of hard work, and the patience to trust the process.
EVENT: THE DEVIL'S EXTREME RACE
For thirteen years, the Devil's Extreme Race has slowly gained renown as one of the must-attend events of the European summer circuit. But train shuttles, live music, and wild whitewater in the Czech national forest are only part of what makes this weekend on the Vltava River so special.
PORTFOLIO
The biggest whitewater kayaking magazine in the world. If a photo speaks a thousand words, then Kayak Session is an encyclopedia. Dubbed the 'National Geographic' of whitewater kayaking, we collaborate with some of the best photographers and most acclaimed writers in the outdoor industry. Our photo concept is to show stunning images of kayakers in their element. This photos-first idea is coupled with a creative layout and fresh content, sure to inspire our readers with every issue. Kayak Session is the essential reading for whitewater kayakers worldwide. (covers, creeking, extreme racing, freestyle, river running, waterfall running, beginners, gear test, gear reviews, environmental issues, instructional, competition, event coverage etc...)
16 other products in the same category: