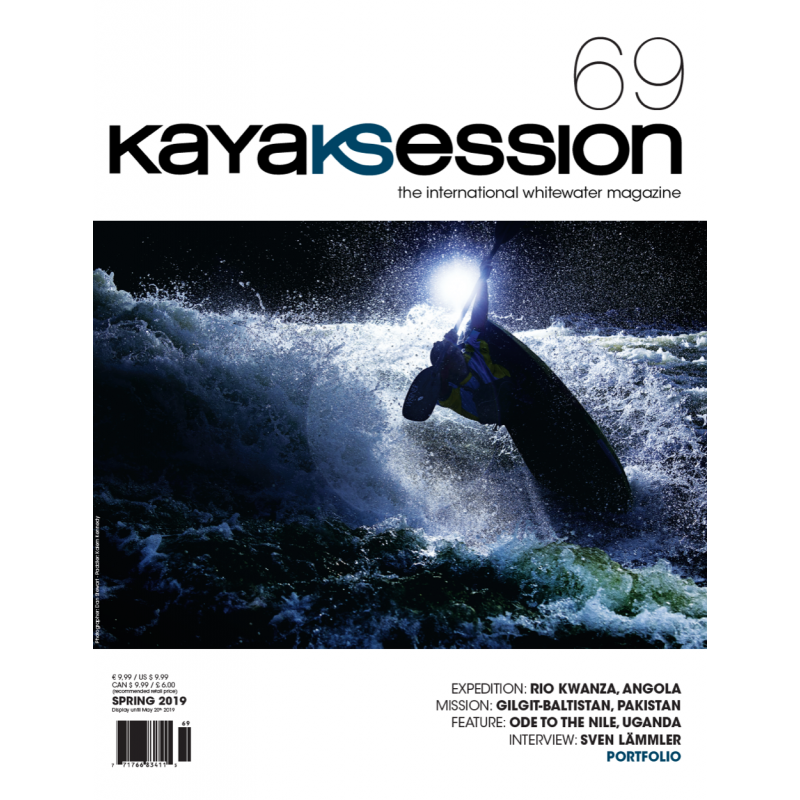  
Kayak Session Numéro 69 - Print Edition
Kayak Session Numéro 69
Out only on March 15th!
Table of contents KS #69 Spring Issue
ANGOLA'S DROWNING DIAMONDS - UNCOVERING THE RIO KEVE AND RIO KWANZA
Claiming the first descent on the Rio Kwanza's Lauca Gorge was no easy feat. Mike Dawson, Dewet Michau, and Jake Holland drove hundreds of miles and navigated landmines, crocodiles, bureaucracy, limited infrastructure, imminent hydro development, and oh yeah, massive rapids. Will they be the last to access the gold mine of whitewater on the Kwanza before it is dammed?

ODE TO THE NILE - A CELEBRATION OF ONE OF THE WORLD'S MOST ICONIC RIVERS
Since rafting companies first promoted the potential of the White Nile River in the early 90s, generations of kayakers from around the world have been drawn to its warm waters. In the last decade, the Nile has become equally recognized for its plight in the push for progress as its large volume rapids and world-class waves. Jessie Stone takes a moment to appreciate what made the Nile so special and still does.

IN THE SHADOW OF THE INDUS – DISCOVERING THE RIVERS OF GILGIT-BALTISTAN
In Pakistan's north-west corner lies the province of Gilgit-Baltistan, home to legendary mountains, the now infamous Rondu Gorge of the Indus, and, as Joe Rae-Dickins, Kristof Stursa, and a rotating crew discover; so much more.

INTERVIEW – SVEN LÄMMLER
24-year old Sven Lämmler may lay claim a litany of high-water descents and speed records around the world, but you would be hard-pressed to know about it. The seemingly fearless and refreshingly humble Lämmler gets real, explaining why he isn't super-human, and what he sees for his future.
The biggest whitewater kayaking magazine in the world. If a photo speaks a thousand words, then Kayak Session is an encyclopedia. Dubbed the 'National Geographic' of whitewater kayaking, we collaborate with some of the best photographers and most acclaimed writers in the outdoor industry. Our photo concept is to show stunning images of kayakers in their element. This photos-first idea is coupled with a creative layout and fresh content, sure to inspire our readers with every issue. Kayak Session is the essential reading for whitewater kayakers worldwide. (covers, creeking, extreme racing, freestyle, river running, waterfall running, beginners, gear test, gear reviews, environmental issues, instructional, competition, event coverage etc...)
16 other products in the same category: