For any purchase involving a digital copy or subscription please follow the steps below:
TO GET YOUR DIGITAL EDITION, FOLLOW THE FOLLOWING STEPS & OPTIONS
STEP 1:
DOWNLOAD THE KAYAK SESSION APP TO BEGIN WITH!
APPLE/IOS: App Kayak Session Magazine or ANDROID GOOGLE PLAY : App Kayak Session Magazine
NB: or go to the App Stores searching for Kayak Session Magazine.
STEP 2:
Access your content
1. Open the app OR Go on the web app
2. Go to Profile
3. Go to Sign in
4. Click on Sign in if you already have an account
5. Don't have and account yet ? Click on Sign up
6. Enter you email (the same you used when you made your purchase)

and password and Click on Sign up (if your password does't work, click on « lost password » )
7. Go to your Library and start to read
Follow your order and download your invoice on our shop, go to the Order history and details section of your customer account.
If you have a guest account, you can follow your order via the Guest Tracking section on our shop.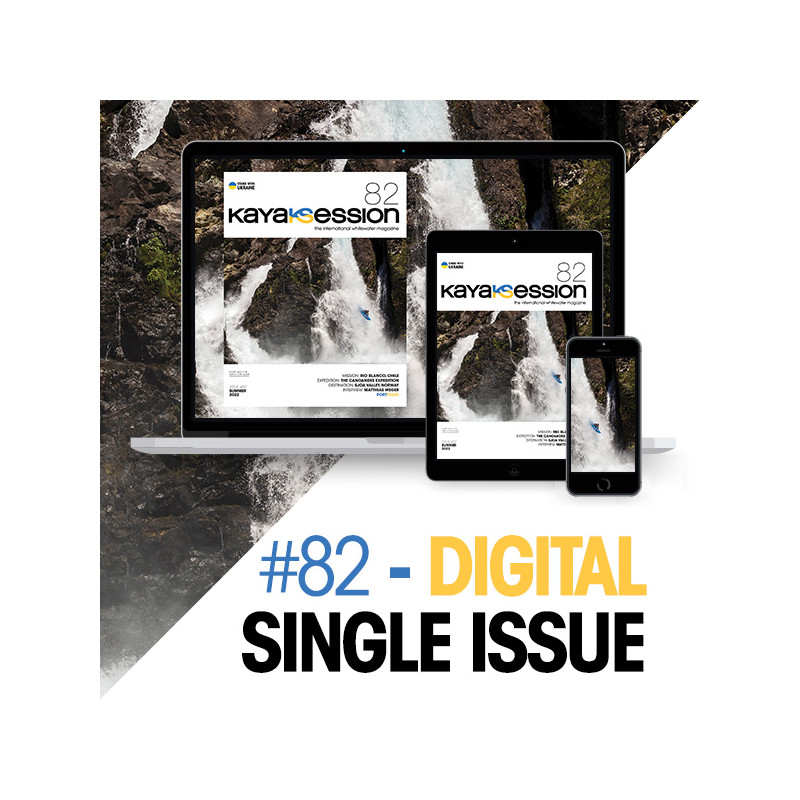  
Kayak Session Issue 82 - Digital Edition
Buy the Digital edition of Kayak Session Issue 81
MISSION: KYRGYZSTAN—THE GREATY NARYN - PADDLING ALONG THE EASTERN WALL                
DESTINATION : VÉNÉON VALLEY - HIGH UP IN THE FRENCH ALPS
ZOOM IN: RETURN TO THE STIKINE - A DEEPER LOOK AT KAYAKING'S MOST ICONIC RIVER
INTERVIEW: ALEC AND HAYDEN VOORHEES
PORTFOLIO
Table of contents KS #82 Summer Issue 2022
MISSION: The Rio Blanco Project – Source to Sea in Wild Patagonia
Join Aniol Serrasolses and Nouria Newman as they become the first to accomplish a descent of Chile's enigmatic Río Blanco from source to sea.
DESTINATION : Sjoa – The Pearl of Norway
When most think of Norway, they think cold, steep, and a little scary. Not so during summer in the Sjoa Valley, where the Sjoa River is just the start of a kayaking paradise where there is something for everyone.
EXPEDITION: Bystrze – Currents of the Colca Canyon & the Canoandes Expedition
A river trip can take your life on a course you could have never known, a truth highlighed by the Canoandes Expedition, which took six young Polish men out of Soviet-controlled Poland around the world on the ultimate kayak roadtrip.  
Interview: Matthias Weger
For some, kayaking—and racing—is about winning, being the best, or being on the mission. For Tyrollean paddler Matthias Weger, whether on skis, paragliding, or in his kayak, there's one goal: finding a way to maximize the fun. 
PORTFOLIO
The biggest whitewater kayaking magazine in the world. If a photo speaks a thousand words, then Kayak Session is an encyclopedia. Dubbed the 'National Geographic' of whitewater kayaking, we collaborate with some of the best photographers and most acclaimed writers in the outdoor industry. Our photo concept is to show stunning images of kayakers in their element. This photos-first idea is coupled with a creative layout and fresh content, sure to inspire our readers with every issue. Kayak Session is the essential reading for whitewater kayakers worldwide. (covers, creeking, extreme racing, freestyle, river running, waterfall running, beginners, gear test, gear reviews, environmental issues, instructional, competition, event coverage etc...)
16 other products in the same category: