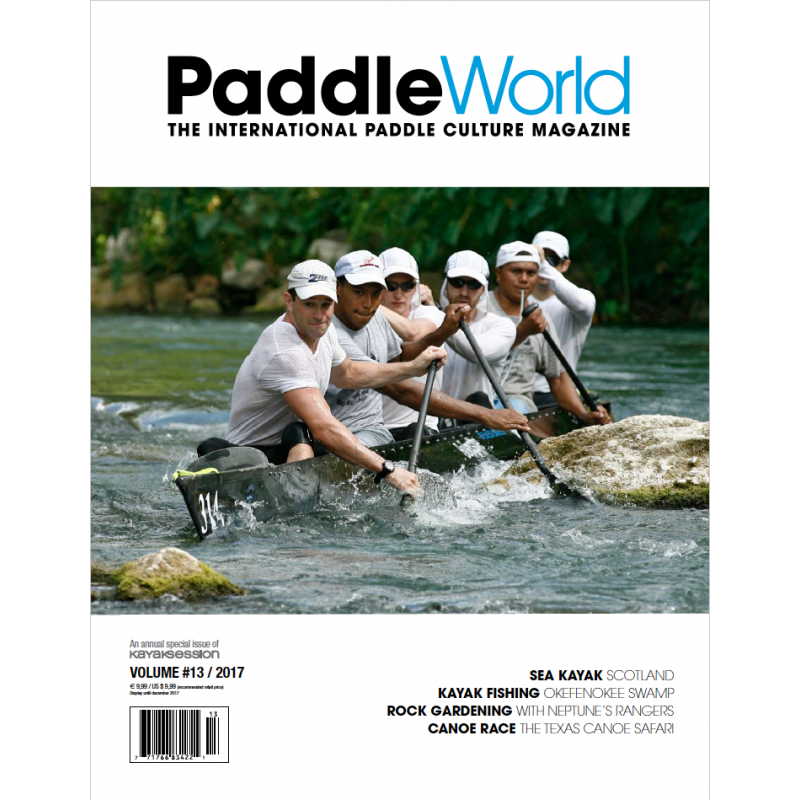  
Paddle World Numero 13
PADDLE WORLD ISSUE #13 2017
SEA KAYAK Scotland
KAYAK FISHING Okefenokee Swamp
ROCK GARDENING With Neptune's Rangers
CANOE RACE The Texas Canoe Safari
Paddle World Issue 13 - Table of contents
PADDLE WORLD ISSUE #13 2017
THE TEXAS WATER SAFARI
Ride along on "The World's Toughest Canoe Race" with Texas Water Safari veteran West Hansen. Hansen drags us through the chaos and the mayhem that accompanies 24+ hours of paddling a man-powered watercraft from San Marcos, Texas, to the Gulf Coast. 
NEPTUNE'S RANGERS
Imagine paddling through coastal swells as they surge in and around rocky coastlines. Bill Vonnegut introduces the Neptune's Rangers, a paddling crew from the San Francisco Bay area known for their 'rock gardening' adventures on the California coast.
OKEFENOKEE LOVE  
Warm water rife with alligators, birds, fish, and history; it is no wonder Chris Funk considers the Okefenokee Swamp one of the best places to explore by kayak. Chris shares different ways to indulge your wild side, from day trips to overnight missions in this North American wetland. 
SCOTTISH SEA KAYAKING 
Forget the kilt, and don your drysuit. Doug Cooper takes us on a tour of Scotland's magical coast and nearby islands, highlighting some of the many reasons why if you haven't paddled in Scotland, it needs to be on your list. 
STAND UP PADDLE WORLD ISSUE #8 2017
PADDLE WITH PURPOSE Lessons From Rapa Nui
GIVE BACK Supkids in Angola
WHITEWATER SUP Tara River Canyon, Montenegro
SUP EVENT The GlaGla Race, France
16 other products in the same category: